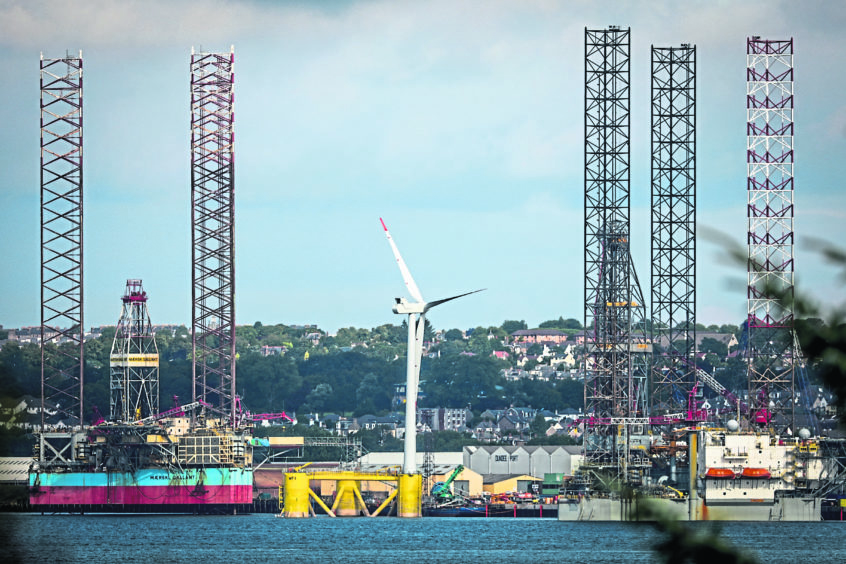 The boss of one of Scotland's leading renewable developments has warned the country needs to be proactive if it's going to maintain its places as a "world leader" in floating wind.
Allan MacAskill, director of Kincardine Offshore Wind Limited (KOWL), says it's going to be "very hard" for the industry to fight off competition from emerging players such as China, but that it's needed to make the most of the "unique" opportunities currently available.
He also stressed the importance of creating opportunities for domestic supply chain companies to develop skills and technologies that can be marketed globally.
Much of the equipment used for offshore wind developments off Scotland is imported.
The six-turbine Kincardine Offshore Floating Wind Farm, which will be the largest of its kind upon completion, is one of a number of clean energy projects that has helped to establish Scotland at the forefront of the sector.
In June, Holyrood announced a new £62 million Energy Transition Fund to attract investment post Covid-19 and help oil and gas businesses diversify over the next five years.
However, with the drive towards a low carbon future gathering pace, other clean energy clusters are beginning to emerge across the world.
Earlier this year, the Chinese government boosted its budget for renewable power subsidies to around $13 billion, 7.5% more than it spent last year.
Speaking during a global energy transition webinar hosted by law firm Addleshaw Goddard, Mr MacAskill said Scotland can't rest on its laurels if it's going to remain ahead of the pack.
He said: "My principle thought is that we just need to be quicker and faster and when you're competing with China that's very hard.
"We have a unique opportunity. We have become the world leader in floating offshore wind with the capacity that's being put into it, as well as future consented capacity.
"We've got to actually deliver that and, in the process of doing so, create opportunities for our service companies to participate and to develop the technologies that will allow them to service other industries globally.
"It happened in oil and gas. We need innovation and to build relationships between developers and the service sector to make sure that the understanding of what the challenges and opportunities are is there."
But despite the widely accepted need for governments to drastically increase green energy capacity, it's not yet clear where the money to finance the transition is going to come from.
As such, Westminster is being urged to "show its hand" and draw up a blueprint for how it plans to generate the levels of investment needed to hit its 2050 net zero goal.
The UK Government is preparing to publish its energy white paper in the coming weeks.
David McEwing, partner at Addleshaw Goddard, said: "The financing piece is massively important and the UK is lagging behind our continental neighbours. The Dutch and German governments have both issued green bonds, in addition to the 225 billion euros from the European Union.
"Are the government going to cover where the funding is coming from in the autumn statement or in the energy bill? Because if it isn't then we're not setting the financial framework and then it's left up to industry to push hard."
Alan Shanks, a fellow partner at Addleshaw Goddard, added: "The scale of the task ahead in terms of investment is such that it can only be achieve with fundamental changes at a legislative and regulatory level. Governments and supranational organisations need to be more aggressive and more ambitious in their targets.
"We're starting to see that across the world and the UK doesn't have a bad platform for further development – there are a wall of investment opportunities coming.
"The amount of capital needed will mean that we'll have to see major oil producers getting involved because they're the ones that still have a lot of the economic firepower that's going to have to be deployed."
In order to give the UK and Scottish Governments the best chance of hitting their net zero targets, they're being urged to make the most of the infrastructure and skills already on offer.
It's hoped plans to create a world leading Energy Transition Zone in the south of Aberdeen will establish the city as the international hub of cleantech.
Mr McEwing said: "Politicians in Scotland and Westminster will want to help share out the prize from the energy transition with other parts of the UK.
"But Aberdeen is a jewel in the crown as far as I'm concerned and they should use it. We've got this here and they shouldn't neglect it."
He also rejected claims Aberdeen City Council had fallen foul of "greenwashing" after it partnered up with oil and gas major BP to help cut emissions.
McEwing said: "BP is trying to make us into a net zero city along with 10 to 15 others globally. It will assist with expertise, if not money.
"It's also getting a discussion going on how the oil industry is going to help drive the energy transition in the coming years."
Recommended for you

Industry expert predicts UK will miss 2030 offshore wind target