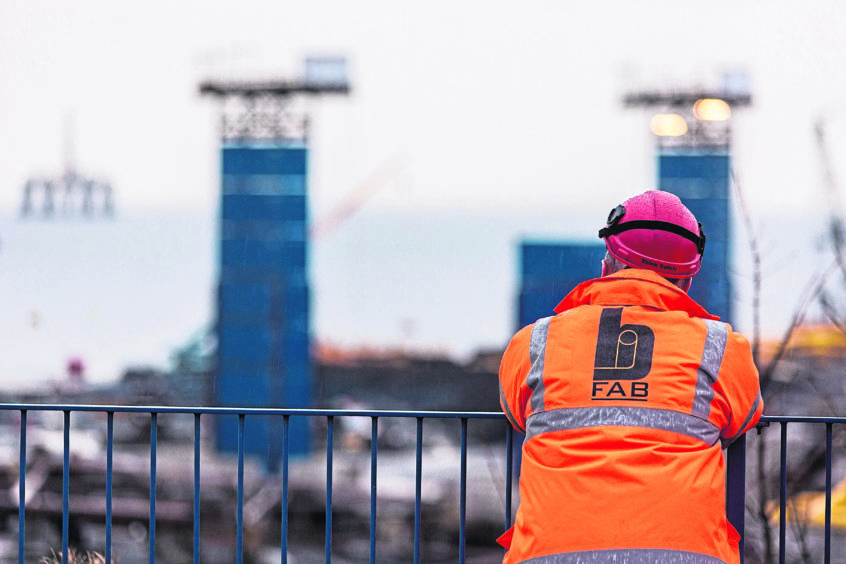 Unions, local business and industry representatives have joined forces to challenge what they call a "renewables scandal too far", after supply chain firm BiFab failed to secure any contracts for a major offshore wind project.
The "Action for Arnish" campaign, which is being spearheaded by GMB Scotland, follows the decision by operator SSE Renewables not to award any work for the £3 billion Seagreen development to the Fife based company.
Last week, the energy company revealed it had awarded a contract to American-firm Fluor to manufacture 84 of the 114 turbine jackets, which will be located 27 miles off the coast of Angus, with the work due to be carried out at its yard in China.
The news followed the earlier award of 30 jackets to United Arab Emirates-headquartered Lamprell.
The Scottish Government supported BiFab's bid to carry out the work but SSE Renewables said the gap between the submissions was "too significant to close".
GMB Scotland hit out at the decision, describing it as a blow to Scotland's plans for a green economic recovery.
The union has now launched a campaign to challenge Westminster and Holyrood for their "failure to deliver" on job creation promises for Scotland's offshore wind sector.
It is also demanding transparency over the leasing arrangements between BiFab's owner DF Barnes and the Scottish Government and is calling for investment to allow the yard to compete for future contracts.
GMB Scotland Organiser Hazel Nolan said: "Scotland has no chance of a "green recovery" if there is no investment in the local supply chains and we continue to award renewables manufacturing contracts to the rest of the world.
"The Arnish yard has been lying mothballed for nearly a year but every turbine jacket from the Seagreen project will be manufactured in either China or the UAE, anywhere it seems but Scotland, and that's disgraceful.
"It's been a decade since Alex Salmond promised us the "Saudi Arabia of Renewables" and Scottish Renewables forecasted 28,000 jobs in offshore wind, yet the Cabinet Secretary told parliament yesterday that delivering jobs for the "green revolution" is dependent on independence.
"This is what political failure looks and sounds like, a decade of lies and spin at Holyrood and Westminster ending up in a constitutional blame game, and an industry body cheerleading for the rest of the world while Scottish communities are desperate for jobs.
"We warned that despair will turn to anger the longer this failure is left unchallenged. Communities failed by politics will take control of their own futures and the "Action for Arnish" campaign is a direct response to what is a renewables scandal too far."
The UK Government, Scottish Government and Scottish Renewables have all been contacted for comment.