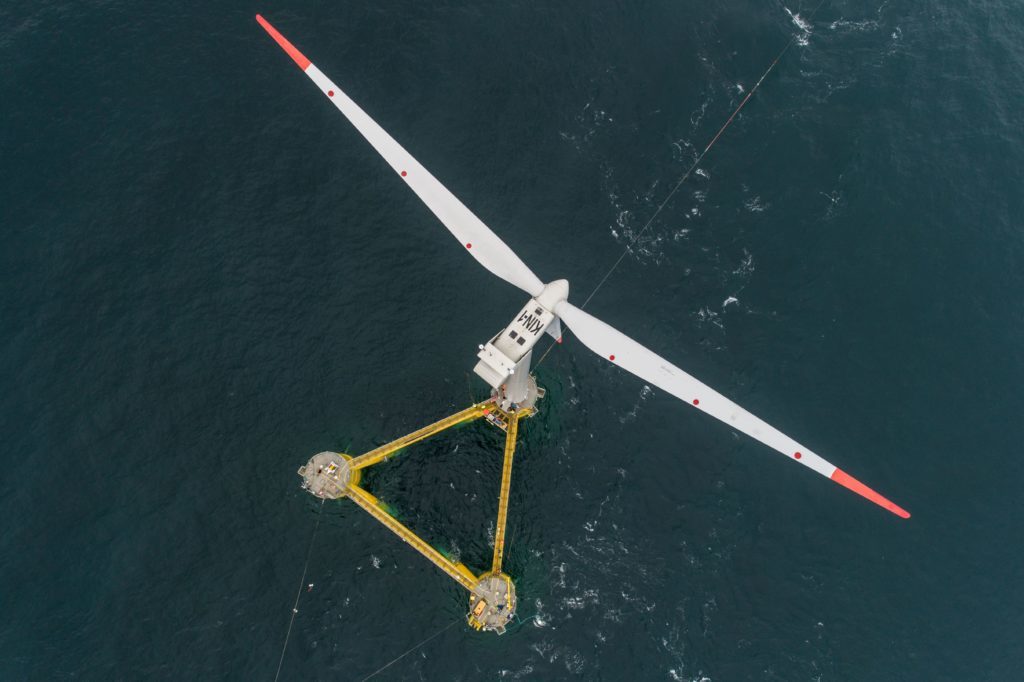 Renewable energy supply chain companies in Scotland need to level up their capabilities if they're going to compete on a global scale, according to the developer behind the Kincardine Offshore Floating Wind Farm.
Allan MacAskill, boss of Kincardine Offshore Wind Limited (KOWL), says firms are being forced to give work to overseas companies because Scottish yards don't yet have the capacity to cope with major offshore wind developments.
Last week, three of the five floating foundations for the Kincardine project set sail from Ferrol in Spain, where they were built by Cobra Wind, destined for Rotterdam.
The turbines will then be mounted in the Dutch port before they're towed to location around 15 kilometres offshore between Stonehaven and Aberdeen.
Mr MacAskill says the nature of the design meant they had to recruit overseas companies to develop the six-turbine 50 megawatt (MW) project, which will be the largest of its kind when completed, because the facilities weren't available in Scotland.
There has been an outpouring of anger from unions in recent weeks after SSE Renewables decided to award contracts for its £3 billion Seagreen development to yards in Chine and the UAE.
That's despite Fife-based BiFab launching a Scottish Government supported bid to carry out the work.
But Mr MacAskill thinks the onus needs to be supply chain companies to invest in their yards in order to bring them up to standard.
He said: "The facilities that we have in the UK for building the structures are, particularly in the floating side, relatively limited because you need deeper waters so you need to make the designs more compatible with operators.
"The other issue is these machines are big and the yards aren't able to accommodate them so we need to decide what we're going to do and how we're going to do it to make best use of the the natural advantages we have. I think that's final assembly of substructures for modules made in different parts of the world.
"You do it like you build an aircraft carrier. You built the bits in the shipyards of the Clyde and brought them round and assembled them in Rosyth.
"You go to the European global market, you build the modules and they come to us. We put them together quickly, efficiently, launch them, put the tower turbines and blades on and take them out to sea. That creates a lot of jobs and opportunities. We don't want these things being built and fully assembled in places that are long distances away.
"We're having to do that at Kincardine because of the nature of the design and the facilities that we need weren't available for us to do it in this country – our yards in the UK are not yet competitive.
"It's unfortunate that SSE Renewables chose yards in China and the UAE but in the end, the problem is that they're quicker, better and have the capacity.
"Making yards competitive will be crucial but that's not the developers job, that's the job of the supply chain and that takes investment."
Mr MacAskill also revealed the Covid-19 pandemic has set the Kincardine offshore wind farm development back several months.
He added: "We were running to a schedule that would have just about seen us finished now and then Covid came along.
"We've lost three or four months to be honest. The first substructures were loaded onto a semi-sub transporter on Monday and they should now be sailing to Rotterdam – it's due to arrive on site late October, early November.
"We tried to do it in the UK but unfortunately you really to have to go the Cromarty Firth and there were clashes with other activities so there wasn't space for us."
Recommended for you

Is Scotland failing to see an LNG opportunity?