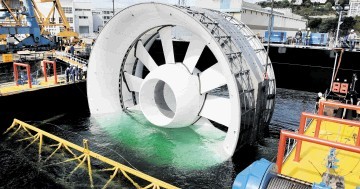 Irish tidal developer OpenHydro is getting ready to chalk up another first.
The firm, which won the badge of having the first grid-connected tidal device in 2007 at the European Marine Energy Centre (EMEC), is now working towards having the first grid-connected array of tidal turbines.
In a project with utility and power firm EDF, it is working to connect four of its latest so-called open centre turbines – each 16m (53ft) in diameter and weighing 110 tonnes – in a farm off the coast of Brittany.
"We see the 16-metre machine as our entry commercial scale turbine," said chief executive James Ives, who in a former life advised the likes of Mercedes Benz and Ferrari F1 on fluid dynamics.
"Once the Brittany array is proved we would go up to 20 and then 100, in incremental steps. It is an important step – demonstrating the potential."
It will also offer learning, but that is nothing new for a firm for whom creating new ways of working has almost become its raison d'etre, including creating its own boats and test equipment.
Since being formed in 2004 through the purchase of the open centre turbine technology off a US inventor, OpenHydro has taken "a few small 3-metre (10ft) 35KW prototypes" to 6-metre (20ft) 250kilawatt machines, then 10-metre prototypes and now its 16-metre device – all built by the firm in Ireland.
Its starting point was developing its own test rig.
It has gone on to develop its own new category deployment barge (a vessel which can be deconstructed into 17 container- sized units), of which it now owns two of, to get away from high costs of other specialist vessels.
To avoid expensive pilling costs, incurred during installation of the test rig, the firm has also developed a gravity-based structure to deploy its devices, which it keeps close to its chest.
All of which has reduced installation times from three months for the test rig to just hours for its standard prototypes now.
Scaling up from 3m to 6m was the hardest step, says Ives, requiring a lot of changes to construction materials.
And while it has now reached 16m, it will continue to carry out research and development at a 6m scale at Orkney.
As well as Brittany, the firm is working on a two-6m turbine project off Washington State with utility SnoPUD, in the Puget sound, a project in the Bay of Funday, Canada, with utility Nova Scotia Power, and a project off Alderney.
It also has a joint lease in the Pentland Firth with SSE Renewables for a 200MW array.
Ives is clear what the company needs to achieve. "There are three main elements we need to come together to make this work," he says.
Those are "a turbine that is going to deliver at the cost and performance looked for", "a method of installing on the seabed – a major part of overall costs of building a tidal farm", and "the connection of arrays."
"The EDF project is really when we bring together all of the pieces – commercial scale multiple grid-connected units demonstrating deployments and recovery," he said.
Having raised Euro83million since 2005, including through naval defence specialist DCNS buying a 11% stake in 2011, the firm says it is fully funded with no borrowings.
It has had revenues from work with EDF and others, but Mr Ives declined to disclose these, 70 staff and a clear sight of transition from a research and development firm into a manufacturer of technology and provider of installation, operation and maintenance services to consumers. OpenHydro was created by Irish investment firm Goldeneye Investments buying the open centre turbine technology created by US inventor Herbert Williams in 2004.
Goldeneye was led by Brendan Gilmore, a trained accountant who had had significant interest in the hotel trade, who then set about forming a team to run OpenHydro from Ireland.
Williams had seen the potential of harnessing the energy of the Gulf Stream off the coast of Florida and, by the time OpenHydro took it on, had made a few small 3metre 35KW prototypes.