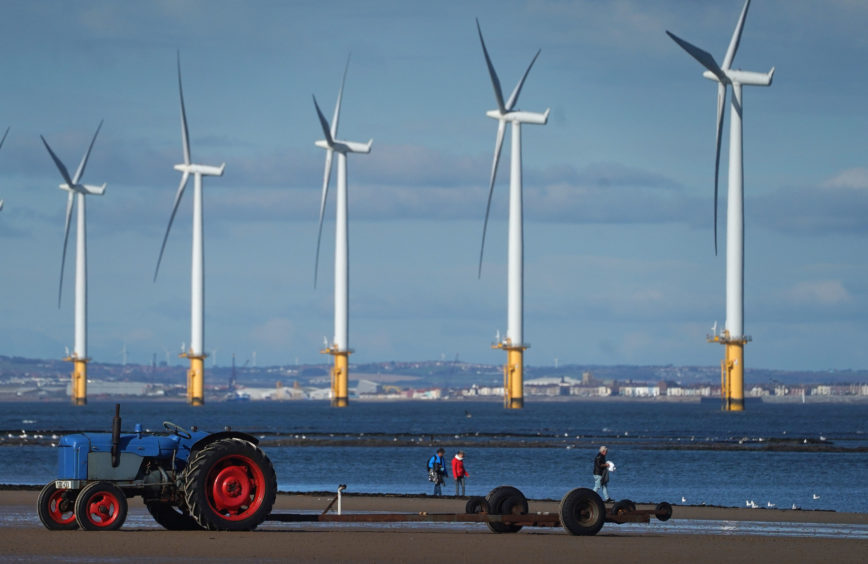 More Government action will be needed to deliver the promise from Boris Johnson to power every home with offshore wind by 2030, the industry has said.
And experts have expressed concern over the possibility raised by the Prime Minister of also heating homes with offshore wind by the end of the decade.
There is currently just under 10.5 gigawatts (GW) of wind in the seas around the UK, generating around 10% of our electricity, and the Government has a manifesto pledge to boost its previous 30GW target to 40GW by 2030.
That could be expected to generate the amount of electricity needed for all the homes in the UK, on current levels of use, though it does not include power for businesses, industry and public buildings.
And if homes switch to heat pumps for heating to replace gas boilers, as well as more electric cars, domestic demand for power will increase.
Industry body RenewableUK deputy chief executive Melanie Onn said: "To reach the Prime Minister's target of 40 gigawatts of offshore wind by 2030, which will power all the homes in the UK, we need to step up the pace and scale at which we build new projects."
She welcomed an increase in the amount of renewable capacity that will be delivered in the next auction – where companies bid to secure contracts for payments for the power they will generate from new wind farms they build.
That pace will have to continue for the rest of the 2020s, she said.
New measures will also be needed to support the development of new technology, particularly floating wind turbines, which can be deployed much further out at sea in deeper waters where wind speeds are higher, generating more power.
"Floating wind could support at least 17,000 jobs by 2050 and generate £33.6 billion of economic activity in the UK – particularly in Scotland, Wales and the South West of England, along with a supply chain throughout the country," she said.
Experts are more sceptical about the switch, proposed by Boris Johnson, for all homes away from gas boilers to heat pumps or boilers powered by hydrogen which could be made using electricity from wind power, on a 2030 timescale.
They warn that the move requires new infrastructure to be put in place to deliver hydrogen to homes, and for new technology – either hydrogen boilers or heat pump systems – to be installed in homes by a trained workforce.
Jim Watson, professor of energy policy and research director, UCL Institute of Sustainable Resources, said the shift to powering UK homes from offshore wind is possible by 2030, and will bring other benefits due to the dramatic fall in wind power costs.
But he said: "On heating, it is much more difficult to decarbonise all heating systems in UK homes – and it would be very challenging indeed to do so as soon as 2030."
Bikash Pal, professor of power systems at Imperial College London, said: "I'm not sure about powering domestic heating with offshore wind by 2030, but to continue to heat homes through gas is going to be neither cost-sustainable nor carbon-neutral.
"Eventually UK homes will be heated through electricity from offshore wind – but to be able to build that infrastructure through a Covid-ruined economy by 2030 – in just nine years' time – is a massive target."
Recommended for you

Macquarie targets North Sea as the green energy hub of Europe