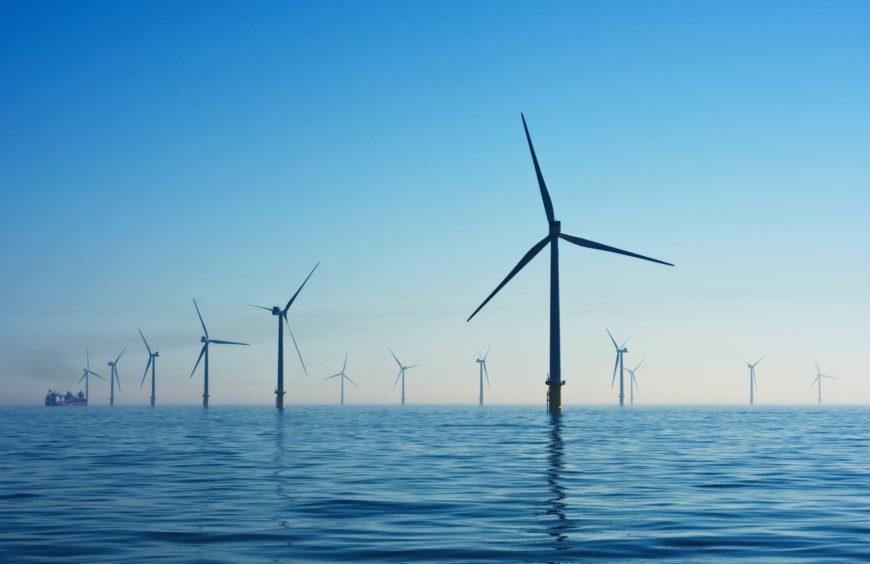 The renewables industry has been reacting to the prime minister's commitment to implement a "green industrial revolution" that will generate hundreds of thousands of jobs.
At the virtual Conservative party conference today, Boris Johnson claimed every home in the UK will be powered by offshore wind by the end of the decade and that he intends for the UK to become to clean energy what Saudi Arabia is to oil and gas.
He also said £160 million will be freed up to upgrade ports and infrastructure in Scotland, Wales and parts of northern England like Teesside and Humber.
The announcement to "build back greener" has been welcomed by the renewables industry, which now has to step up to the challenge of meeting offshore wind capacity of 40 gigawatts (GW), up from 30 GW.
Claire Mack, chief executive of Scottish Renewables, said: "The Prime Minister is right to acknowledge the UK's renewable energy resource as one of the best in the world and right to focus on the development of wind power, as part of a balanced green energy mix, as a key way to power the UK's green economic recovery.
"All parts of the UK can and should benefit from the development of this resource and the renewable energy industry in Scotland looks forward to working alongside government to deliver jobs, investment and innovation as we move towards our ambitious net-zero targets."
RenewableUK's chief executive, Hugh McNeal said: "The Government has raised the ambition for offshore wind and renewables, and our industry is ready to meet the challenge.
A green recovery with renewables at its heart will be good for consumers and jobs, as well as helping to meet our 2050 net zero emissions target.
Support for new floating wind projects will ensure the UK stays at the forefront of global innovation in renewables, and provides new opportunities in the low carbon transition".
Benj Sykes, the industry chair of the Offshore Wind Industry Council, said: "Offshore wind is on track to become the backbone of Britain's electricity system, providing reliable, low-cost clean power to homes and businesses across the country.
"The industry is investing tens of billions of pounds in new offshore wind projects, supporting local economies and employment in communities across the UK. Our global leadership in offshore wind, coupled with new support for investment in ports, will help unlock the huge opportunity for the UK to build a world-leading, competitive supply chain".
As well as industry bodies, offshore wind developers were also quick to praise the prime minister for adopting more ambitious clean energy goals.
Alistair Phillips-Davies, SSE chief executive, said: "We welcome this news which will help ensure that more low cost offshore wind can be deployed before 2030, creating green jobs and putting the UK on the right path to net zero.
"This complements SSE's own plans to invest over £7.5 billion in low carbon infrastructure over the next five years, including building the largest offshore wind farm in the world at Dogger Bank with Equinor. We look forward to working with government to ensure that offshore wind continues to be cost-competitive as we deploy it at greater scale."
Duncan Clark, head of UK Region for Danish energy giant Ørsted said: "We welcome today's announcement from the government which will underpin the delivery of at least 40GW of offshore wind by 2030 and unlock huge opportunities for world class UK supply chain companies, both domestically and overseas, to market the skills and innovative technologies that have been fostered in the UK offshore wind industry.
"Offshore wind is the most cost effective way to achieve the UK's net zero ambitions and delivering 40GW of offshore wind by 2030 is an essential part of this roadmap. This is a challenging target but achievable if Government and the industry continue to work together to accelerate deployment and build out the UK project pipeline as quickly as possible, regenerating coastal communities while expediting our progress to a more sustainable, low-carbon future."
Stephen Bull, head of Equinor's renewable division in the UK, said: "Today's announcement is great news for the UK, for our climate ambitions, for our economy and our world-leading offshore wind industry. Floating offshore wind is an exciting technology which unlocks capacity in deeper waters in the UK and across the world.
"The UK is home to the world's first and only floating offshore wind farm, Hywind Scotland, and is well-placed to leverage its expertise in offshore wind and the future-fit opportunities that floating offshore wind brings. We believe 1GW by 2030 is achievable, but we will work to go further and aim to double this to at least 2GW, cementing the UK's leading role in both fixed and floating offshore wind.
Register for free to join Energy Voice's virtual Energy Transition Idea Exchange (ETIDEX) summit on November 19 at www.etidex.co.uk
Recommended for you

'We need more projects like Rosebank': Industry reacts to oil field approval