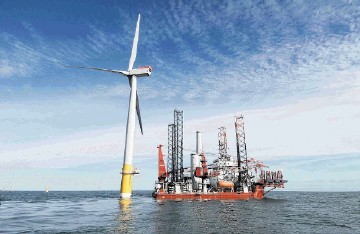 Oil and gas companies could if they wish become key players in the multi-billion offshore wind mega-projects market.
According to a two-year research project by Accenture, they not only have the construction and operational experience required for success, many also produce natural gas, which is seen as a complement to renewables.
In the UK, some companies such as Statoil and Repsol have begun to lead the way by partnering with utilities and other players to develop offshore
wind projects.
Accenture says oil and gas companies that want into offshore wind should:
o Leverage their offshore project management, development, construction, operations and HSE experience; for example, acknowledge the need for knowledge transfer to offshore wind developers and operators.
o Determine how natural gas could most effectively be leveraged by the offshore wind industry.
o Determine their appetite for partnering.
o Help developers in embracing an offshore wind-specific HSE framework.
Regardless of who rules the offshore wind roost . . . power utilities of Big Oil, Accenture says turbine manufacturers remain a key piece of the offshore challenges puzzle, and will likely "hold back" the re-engineering, retooling and scaling of their operations, investments and capabilities until there is a clear line of sight to firm, long-term demand for offshore wind turbines.
To be successful in supplying this market, recommendations include that they should:
o Explore new partnering models with project developers to secure future demand and reduce risk.
o Recognise that given the radically different logistics and operations in the marine environment, technologies will have to be designed with an end-to-end perspective, requiring greater inclusion of manufacturing location, logistics and maintenance considerations in the design.
o Acknowledge the need for cross-border co-operation between supplying countries and demanding countries to develop the most efficient, scalable supply chain.
o Explore and develop innovative ways to fund R&D for standardised components and offshore wind-specific turbines and technologies, including through partnering with all actors across the value chain.
o Engage with project developers, vessel contractors, oilfield services providers and other industry stakeholders to develop a point of view about line of sight of cost reductions, to be socialised with industry and broader stakeholders.
Turning to oilfield services providers, some of whom have feet planted in both camps, they are seen as being able to play a pivotal role, serving as catalysts for cost reductions in construction, operations and logistics.
Accenture's researchers recommend that they:
o Continue fostering innovative partnerships with developers and other organisations to pursue technology breakthroughs, reduce cost and share risk.
o Help developers in embracing an offshore wind-specific HSE framework.
o Explore opportunities for expansion into offshore wind through M&A to
increase capability and quickly gain specific offshore wind expertise.
o Leverage their valuable experience working in the offshore oil and gas industry to expedite the development of the offshore wind industry by sharing lessons learned with offshore wind project developers and vessel contractors.
o Share lessons learned across the industry with other service providers.
And the story is much the same for vessel providers who should, for example:
o Explore options for maximising vessel utilisation across wind project developers as well as across renewables and oil and gas.
o Collaborate more closely with turbine designers and project developers to improve installation vessel design for offshore wind-specific projects.
o Identify vessel traits that maximise vessel suitability to offshore wind and, where applicable, modify existing vessels.
All told, offshore wind is a promising market . . . now and into the future, with 13 mega-projects planned for the UK alone.
However, the development costs of projects need to be slashed from today's £2.3million per installed megawatt to around £1.3million/MW. This is a far bigger reduction than the North Sea oil and gas industry achieved during its reduction drives of the 1990s.