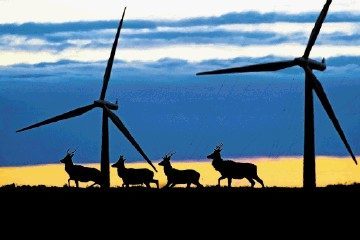 North and north-east council chiefs have no plans to follow the lead of an English local authority which could vote this week to halt the march of the wind turbines.
Conservative-led Lincolnshire County Council is considering new guidance containing a presumption against any more being built.
Local authority leader Martin Hill said the area already had 75 turbines taller than 425ft, with several hundred more in the pipeline.
The Tory councillor said: "I don't think we want the whole county to be covered by a forest of the things."
The council is now poised to issue a position statement, saying that new windfarms should not be built within six miles of villages with more than 10 homes.
Campaigners want a similar attitude adopted in Aberdeenshire, but tailored to local circumstances.
However, local authorities in the north still have faith in their current planning systems.
Moray Council leader Allan Wright said there was no reason to implement a ban as the existing regime "generally coped".
He said he recognised the pressure renewable energy developments could create and said the authority was carrying out a review which he hoped would be completed by the end of the year.
He added that he had "some sympathy" with the approach taken by neighbouring Highland Council – which shares some areas of outstanding natural beauty with Moray – to ban turbines within one-and-a-quarter miles of any house.
Mr Wright said: "It is right and proper that policies are reviewed and updated to cope with the increasing pressures that come and one of the pressures that has come in recent times is the rash of applications for wind turbines."
Highland Council leader Drew Hendry said there was no need to emulate the stance being adopted in Lincolnshire.
"The planning system we have got is perfectly adequate to deal with the applications that come forward," the SNP councillor said.
Aberdeenshire Council's infrastructure committee chairman Peter Argyle said the authority was reviewing the guidelines.
He could not say what they would contain in future, but added that they were likely to take into account the cumulative impact of applications on a particular area.
"We are looking at it because we have a proliferation of applications as does Lincolnshire but for 'smaller' turbines," he said.
Recommended for you

Wind power's 'colossal market failure' threatens climate fight