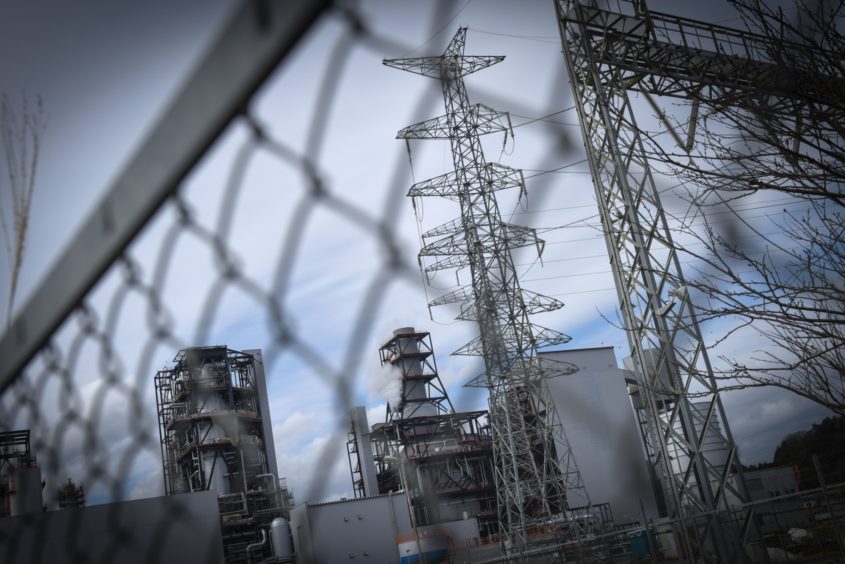 Japan set an ambitious pledge for becoming carbon neutral by 2050 on Monday, without laying out a clear plan for reaching its target.
Concrete goals to promote hydrogen, battery storage, carbon recycling and wind power will be identified in a report released by the end of the year, Minister of Economy, Trade and Industry, Hiroshi Kajiyama told reporters Monday. Few details were provided, such as how or when Japan may wean itself off its reliance on coal plants.
Prime Minister Yoshihide Suga unveiled the goal in his first policy speech to parliament since taking office last month. The 71-year-old, who was installed by Japan's ruling party after long-term leader Shinzo Abe stepped down over health concerns, had not previously been known for prioritizing environmental policies.
Yoshihide Suga delivers his policy speech on Monday, Oct. 26.
"The Suga administration will seek to make a virtuous cycle between the economy and the environment," Suga said in the speech. "We will put all possible efforts into creating a green society."
Suga's climate plan was met with cheers from lawmakers, but he gave few details beyond saying the key would be innovations such as next-generation solar cells and carbon recycling. He added that nuclear power would remain an element of the energy mix, and the country's policy on thermal power would be overhauled.
Kajiyama said the government may revise its 2030 power mix goals in order to meet the 2050 pledge. Current targets for 2030 are for renewables to account for up to 24% of total power generation; a maximum 22% share for nuclear, a 26% share for coal and 27% for LNG.
Construction of new nuclear plants isn't under consideration because public trust after the 2011 Fukushima disaster has yet to be restored, Kajiyama said.
The climate change target for the world's fifth-largest greenhouse gas emitter brings it into line with other major economies, including the European Union and China.
Renewables must make half of Japan's energy mix by 2030 and the country needs to limit its use of coal and gas to maintain an orderly transition consistent with keeping global warming to 1.5 degrees Celsius, according to an analysis by the Asia Investor Group on Climate Change, which looked at scenarios developed by central banks and financial regulators.
"Innovation will be needed for the hard-to-abate sectors like steel and cement but for electricity production it is not a matter of technology but adequate market rules, regulatory measures and distribution infrastructure that prioritizes renewable energy supply," said Shin Furuno, a senior manager with the AIGCC.
The plan is one of the most ambitious new policies that Suga has unveiled. It comes after the high support-rate with which he entered office a month ago took a hit amid a dispute over appointments to an academic advisory council. A poll conducted by the Nikkei newspaper between Oct. 23-25 found approval for his cabinet had fallen 11 percentage points to 63%.
Suga, who served for years as Abe's right-hand man during his record run as premier, has pledged to keep in place his former boss's flexible fiscal stance and ultra-easy monetary policy, known as "Abenomics." Any sign of a departure could send the yen surging and stocks sliding.
He has repeatedly vowed to try to prevent any explosive spread of the coronavirus, while tackling its economic effects, including by providing subsidies for traveling and eating out. Japan saw its worst economic downturn on record in the April-June quarter, much of which the country spent under voluntary lockdown measures.
The pandemic has reduced the nation's nominal gross domestic product to 505 trillion yen ($4.82 trillion), its smallest since the second quarter of 2013, just after the start of Abenomics. Abe had promised to boost nominal GDP to 600 trillion yen by 2020.
Recommended for you

Lord Frost rounds on government over 'invented' net zero targets