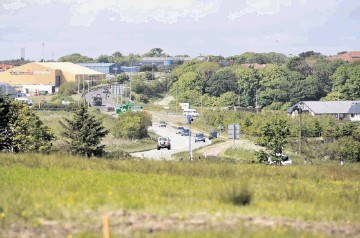 A masterplan has been drawn up to improve the southern gateway to Peterhead and attract new business into the area.
The blueprint, which paves the way for a series of aesthetic enhancements, was commissioned by the team behind the £750million Energetica project.
It will be used to guide potential developers and landowners.
The masterplan covers the area around the A90 Peterhead to Aberdeen road from Invernettie to Stirling Hill, near Boddam.
A series of pathways designed by community council members has already been incorporated into the scheme.
The 30-mile Energetica "strategy growth corridor" is expected to attract about £1.5billion worth of investment into the north-east over the next 20 years.
Energetic project director Sara Budge said the masterplan, published today, was drawn up following talks with local groups and businesses.
"The intention is to work with developers to improve the environment and overall appearance of the south Peterhead area in line with the wider Energetica vision.
"Energetica aims to become a renowned, world-class destination attracting innovative energy businesses and highly-skilled people. It will feature high-quality housing and commercial and leisure facilities in an outstanding natural environment based on low-carbon principles."
The masterplan proposes improvements at the Invernettie roundabout, the power station, Stirling Hill and Boddam.
These include providing an enhanced and dramatic gateway to Peterhead, a significant landscaped framework for future development and clear and attractive walking and cycling routes, including road crossings.
The Energetica scheme is led by Aberdeen City and Shire Economic Future, a partnership between public and private sectors.
The first phase of the project — a 55-acre business park on the edge of Peterhead — was backed by councillors last year.