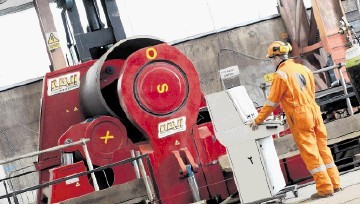 Renewable-energy firms across the Highlands and islands have been urged to tap into the industry's potential in the Hebrides.
Representatives of companies like Voith Hydro Wavegen from Inverness and Aquamarine Power, owner of Lewis Wave Power, will meet on Lewis next week to discuss the wave and marine-energy opportunities in and around the islands in the years to come.
The Realising the Potential event, organised by industry body Energy North, is part of a two-day conference on Lewis which also includes a meeting of the Outer Hebrides Renewables Group.
The Scottish Government wants the renewables sector to employ 40,000 people across the country by 2020, and Highlands and Islands Enterprise (HIE) expects at least 10,000 of them to be based in the north.
Energy North chief executive Ian Couper said: "The potential for the Western Isles' energy sector is tremendous, and the event will allow forward-thinking businesses to hear about the latest developments and opportunities.
"We hope that by showcasing some of the projects which are already live in the Outer Hebrides and beyond we can help establish a strong supply, which will in turn harness the renewable power at the fingertips of some of Scotland's most remote communities."
He added: "The Outer Hebrides are surrounded by some of the richest renewable-energy resources in the world.
"As the name of the event would suggest, we're keen to highlight the wealth of opportunities to both local businesses and those who may be interested in investing in renewables in the north of Scot-land."
Energy North has arranged the event alongside HIE and Western Isles Council.
Council leader Angus Campbell said: "From fabrication at Arnish Point and research at Lews Castle College to wider benefits throughout the entire supply chain, renewable-energy development has the potential to transform our fragile island economy.
"The time is now right for developers to engage with the local supply chain to ensure that as many of the benefits of renewable-energy as possible are captured for the Western Isles."
Realising the Potential will take place at the Borve Country House Hotel on Friday, June 22.