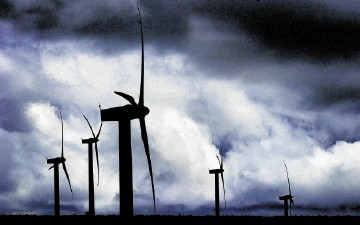 The oil and gas sector is hostile to renewable energy targets, an MSP claimed yesterday.
Green MSP Patrick Harvie hit out at industry body Oil and Gas UK (OGUK) for suggesting Scotland is unlikely to meet a key target for 2020.
Instead the organisation said producing the equivalent of 100% of electricity needs from renewable sources was more likely to happen by 2030.
The Scottish Government said the country was already on track to meet the target.
In a written submission to Holyrood's Economy, Energy and Tourism Committee – which is investigating how achievable the government's renewable energy targets are – OGUK said the intermittency of wind power could be a stumbling block.
Green Party co-leader Mr Harvie said that "pretty much everybody I think who is working in renewables has been telling us that the target is eminently achievable. Is it a pure coincidence that the most hostile evidence I can recall us hearing about renewable energy targets is coming from the fossil fuel industry?"
OGUK's energy policy manager David Odling questioned whether the investment needed to meet the 2020 target was achievable in the timescale. Capital investment in the sector up to the end of 2010 amounted to about £300billion, which had "taken us just over 40 years with some very, very big investors", he said.
According to Mr Odling, £200billion needs to be spent on renewable energy in the UK. He said: "Does it really make sense that that rate of investment is achievable against the backdrop of what we have done over 40-odd years? Which is why we've suggested that the target is more likely to be one for 2030 rather than 2020."
A Scottish Government spokeswoman said ministers recognise the "immense contribution oil and gas makes to Scotland's economy", but added that independent analysis suggested the renewables target would be achieved on schedule.
An oil and gas industry expert said she would be "very surprised" if there was an exodus of workers to the renewable sector.
Alix Thom, employment and skills issues adviser for Oil and Gas UK, said the fossil fuels industry had a bright future and was already experiencing a skills shortage.
She said: "It's an industry with a bright future because it is forecast there is between 14-24billion barrels of oil equivalent to be recovered from the North Sea."
Recommended for you

Norway has strategic value to Europe beyond oil and gas