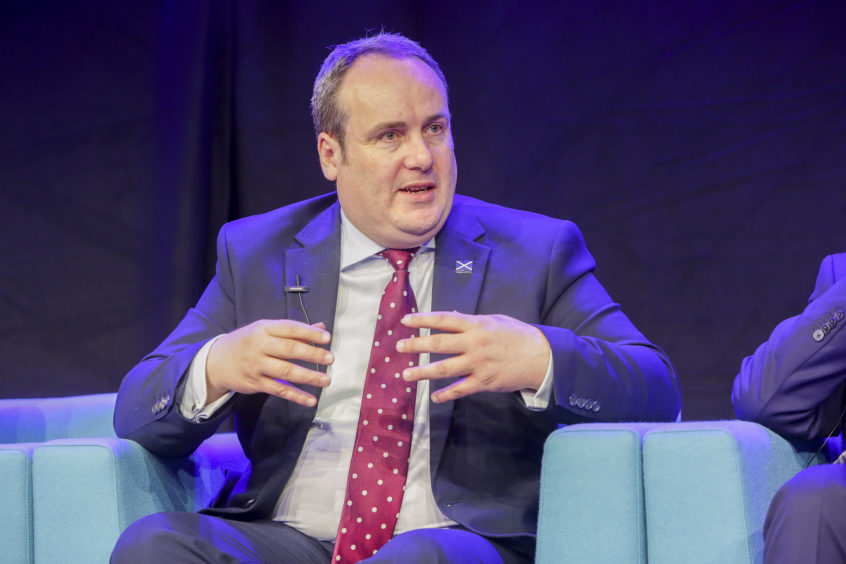 Scotland will soon need to take "leaps not strides" in order to reduce carbon emissions, according to Holyrood's energy minister.
Paul Wheelhouse called for "urgent action" in order to improve energy efficiency as he gave an update on Energy Efficient Scotland to almost 300 people as part of the final day of the virtual All-Energy conference.
He also claimed the next decade will be vital if the Scottish Government is to hit its target of becoming net zero by 2045.
Despite the Covid-19 pandemic still dominating the headlines, politicians and industry experts have used the conference to stress the need for continued focus on the energy transition.
During the opening of All-Energy on Wednesday, first minister Nicola Sturgeon warned that climate change remained the "greatest long-term challenge" facing humanity.
And Mr Wheelhouse says measures to tackle energy inefficiency will be key factor in efforts to abate greenhouse gasses.
He said: "The time is coming when we must take leaps not strides and we must work collectively to scale up our efforts to tackle greenhouse gasses.
"Reducing emissions from our buildings we know requires the retrofitting of almost all of our 2.6 million or so structures in use today. It will mean making them more energy efficient, as well as ensuring that heat is supplied from zero emissions sources.
"Right now, the main zero emission heating systems are electric heat pumps and heat networks. In the longer term, after successful demonstration, hydrogen may have a role to play and we want to see the rate of renewable heat installations fitted in new and existing homes and buildings at least double every year from a current baseline of around 2,000.
"Energy efficiency improvements will need to underpin many of these installations and we're beginning to further scale up and grow our investment. Investing in reducing the emissions from heating our buildings will help underpin our green recovery and the opportunities are significant."
He also used his speech to announce an additional £4.5m in interest free loans for Scottish households support energy efficiency measures.
The scheme, which aims to accelerate the uptake of renewable heat, is due to open early next month and will be accessible via Home Energy Scotland
Mr Wheelhouse said: "It will offer up to 75% cashback on loans for renewable heating technologies up to a maximum value of £10,000."
He added: "As confirmed in this year's programme for government, we'll invest £1.6 billion over the next parliament to expand and accelerate our heat and energy efficiency programmes as part of a green recovery. Through this investment we expect to support at least 3,000 jobs, growing to at least 5,000 by the middle of the decade.
"The low carbon infrastructure transition programme is of course due to end in 2021 and we're keen to continue its success. We will be launching a call for evidence on a successor to extend our support for innovative low carbon heat projects in the coming months."
However, he insisted that the Scottish Government wasn't treating the green recovery as a "technocratic exercise".
Mr Wheelhouse added: "At its core are people – it's important that we're all taken along on this journey and that no one is left behind. The success of all our delivery programmes is dependent on individuals taking action."
Register for free to join Energy Voice's virtual Energy Transition Idea Exchange (ETIDEX) summit on November 19 here.