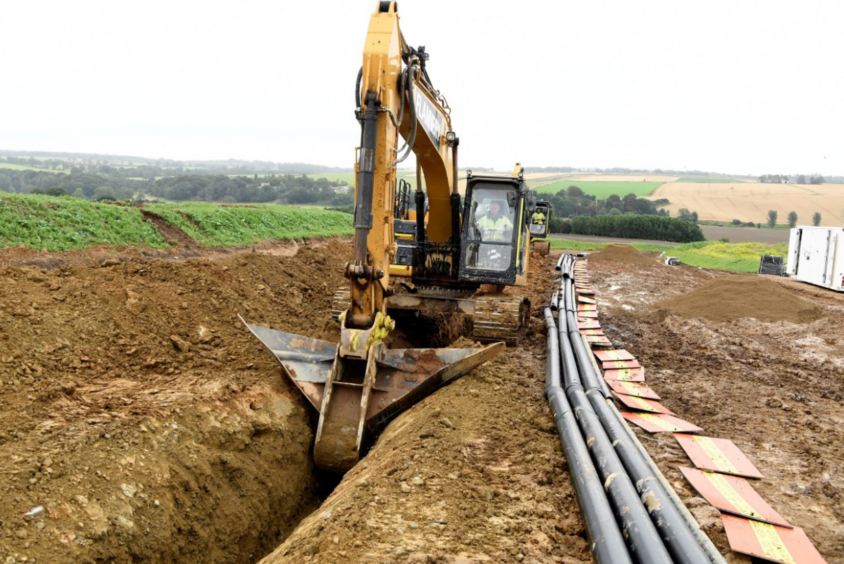 The Moray East wind project has reached a major onshore milestone in Aberdeenshire after laying 300,000 metres of cable to provide power to the National Grid.
One of Scotland's largest offshore wind developments, Moray East will provide enough power for more than a million homes when it comes online in 2022.
Contractor Siemens Energy oversaw installation of the 21-mile cable route, starting near Banff in Aberdeenshire to a substation in New Deer.
The works started in October 2018, using cables manufactured in Poland.
Siemens said a subcontractor, VolkerInfra based in Lancashire, used specialist horizonal drilling techniques to reduce the impact on the environment and wildlife.
One such area was the River Deveron, home to salmon, sea trout, brown trout and protected animals like otters, pine martens, badgers, ospreys and Scottish wildcat.
The firm drilled a U-shaped tunnel deep underneath the river, pulling the cable through that in order to avoid disturbance.
Around 245 people are employed onshore to complete the onshore substation, with with works to install, commission and test the high voltage cables progressing "at pace".
Onshore work is due to complete next year.
Moray East is a 100-turbine wind development, due to be operational in 2022. It lies around 13.5miles off the Aberdeenshire coast, north of Fraserburgh, in the Moray Firth.
The 950MW wind farm is being developed by Moray Offshore Windfarm East Ltd (MOWEL), which is a joint venture company owned by Diamond Green Limited, EDPR, ENGIE and CTG.
Mark Pilling, head of Transmission Solutions, Siemens Energy UK&I, said: "Using horizontal directional drilling has not only limited the environmental impact of the project, but also removed a large amount of disruption to people's lives in this rural area.
"It is likely most people will not know that 34km of cable has been laid through the landscape. We are delighted this part of the project is completed and we are a step closer to bringing the low cost, low carbon power to homes and businesses across Scotland."
Recommended for you

Eastern Green Link 2: Hitachi wins work on major Scotland-England grid link