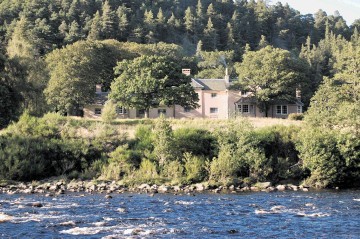 A Highland estate is hoping to harness hydro power to provide electricity for its Victorian shooting lodge and feed into the national grid.
Lord Colin Cawdor, of Cawdor Estate, has applied for planning permission to instal a micro-hydro-electric turbine on land west of Drynachan Lodge, about 10 miles from Nairn.
Angus McNicol, managing agent for Cawdor Estate, said the project formed part of a wider move towards renewable energy.
He said: "We are very keen to be involved in the renewables sector.
"We've been looking at a few projects and thought we had a natural resource that we could potentially take advantage of for hydro-electricity.
"The micro-hydro scheme would take water from the Drynachan Burn, which flows down towards the River Findhorn, and would produce 100KW of power, which would be used to supply electricity to Drynachan Lodge, with the surplus being exported to the national grid."
The estate was granted planning permission in principle for a wood-chip boiler at Brackla in spring of last year and is hoping to move ahead with the project soon.
It has also applied for permission for a 17-turbine windfarm at Tom Nan Clach that would produce 39.1MW of renewable energy.
The application, which is a joint venture with Infinergy, went to appeal last year and the estate is waiting to hear the outcome.
Drynachan Lodge offers accommodation for up to 22 people and is used by shooting and fishing groups, as well as private parties.