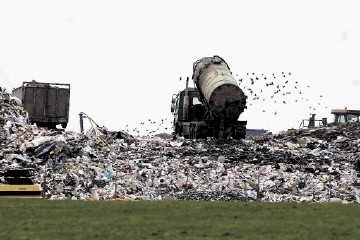 Plans have been lodged to erect a wind turbine at a landfill site on the outskirts of Aberdeen.
The application to city council planners, from FCC Environment (UK) Ltd, is for a single 81ft structure at its Tarbothill premises.
The waste management firm said the machine would generate electricity to power the facility.
The site is at the northern edge of the city boundary, off the Aberdeen to Balmedie stretch of the A90 near Blackdog.
Stuart Markham, business development manager at FCC Environment, said: "FCC Environment is constantly looking for new opportunities to make a positive contribution to UK green energy infrastructure and support the UK in meeting its international commitments to renewable energy.
"A proposal has been submitted to Aberdeen City Council for an 11kw wind turbine at our Tarbothill site and electricity generated will be used to provide power to the site."
The application will be considered by the local authority's development management sub-committee at a later date.
Meanwhile, councillors will be asked to support a separate turbine bid for a site at Milltimber on Thursday.
Committee members will consider the application from G&B Renewables for land at South Lasts Farm, Contlaw Road.
The plan to erect a single 242ft structure prompted 53 letters of objection from residents on either side of the city's western boundary with Aberdeenshire.
In a report to the committee, head of planning Margaret Bochel notes that planning permission has already been granted for three turbines at Upper Beans Hill, about a third of a mile away.
She has recommended approval of the plan, as it is in keeping with Scottish Government and council planning policies.
Among the objectors are Cults, Milltimber and Bieldside Community Council, which argued the proposed turbine would present a "significant intrusion" on the local landscape.
The community council's planning co-ordinator, Christine McKay, said approval of the scheme could set a precedent for further, similar developments in the area.
Mrs Bochel states in her report that the application fits with the local development plan, and that there are no other grounds on which to refuse permission.