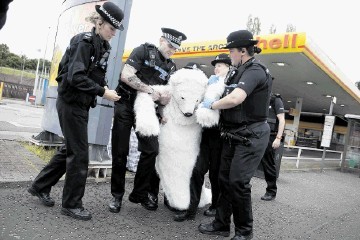 Motorists faced delays at petrol pumps as environmental campaigners launched a protest at an oil firm's plans to drill in the Arctic.
Seven Greenpeace activists have been detained by police in Edinburgh as they targeted Shell petrol stations in the Scottish capital and London.
Some of the campaigners were dressed in polar bear outfits as they attempted to cut supply to the pumps in protest at the company's plans for offshore drilling in the Arctic.
About 100 stations in London were the intended targets of protest while 12 were the subject of the demonstrators in Scotland.
The protesters were detained at a petrol station in Dalry, Edinburgh, where Greenpeace said they used an emergency shut-off switch to stop petrol going to the pumps, then attempted to remove a fuse to delay it being switched on again.
Activists had chained themselves to the pumps, a Greenpeace spokesman said. Two other people remain on the roof.
A Greenpeace spokes-man said police were at the scene of the other targets in the Maybury and Seafield areas of the city.
In London yesterday, the charity announced it had closed more than 40 stations, including Old Ford in east London, Fulham Cross in west London and Hornsey in north London.
Greenpeace broadcast its action online, updating details about station closures and arrests.
Shell is due to begin drilling at two offshore sites in the Alaskan Arctic in the coming weeks.
Greenpeace's Sara Ayech said: "The oil giant Shell is preparing, for the first time, to unleash a drilling fleet of huge vessels upon the fragile and beautiful Arctic, home of the polar bears.
"It's time to draw a line in the ice and tell Shell to stop.
"That's why we're going to shut down all of Shell's petrol stations in the capital cities of London and Edinburgh. We've got dozens of people who will hit more than 100 garages throughout the day.
"An oil spill in the Arctic would be catastrophic for wildlife such as walruses and whales, and Shell knows full well that it would be impossible to clean up after such devastation.
"The Arctic must be saved and made a global sanctuary where oil drilling is banned."
A spokesman for Shell said: "Shell recognises that certain organisations are opposed to our exploration programme offshore Alaska and we respect the right of individuals and organisations to engage in a free and frank exchange of views about our operations.
"Recognising the right of individuals to express their point of view, we only ask that they do so with their safety and the safety of others, including the general public and Shell personnel, in mind.
"Shell has met numerous organisations and individuals who oppose drilling offshore Alaska.
"We respect their views and value the dialogue. We have extended this same offer for productive dialogue to Greenpeace."
Recommended for you

Norway activists take fight on Arctic oil drilling to European Court