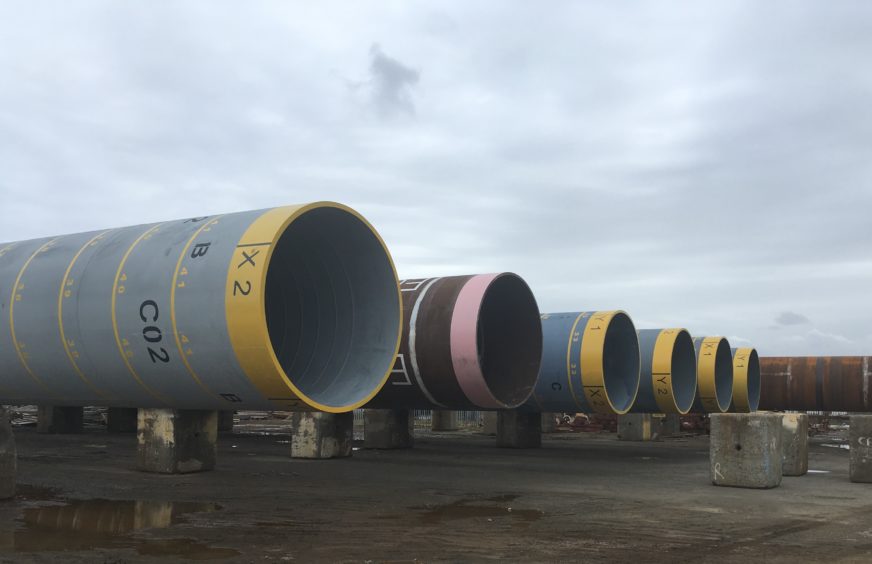 Western Isles councillors are confident that Burntisland Fabrications' (BiFab) decision to call in administrators will "free up" the firm's Lewis yard, making it available for new operators to move in.
Comhairle nan Eilean Siar leader Roddie Mackay said that, while the collapse of the firm was "disappointing", it should enable the site to detach from the lease and become a "free standing agent".
Hopes of a revival at BiFab's industrial yards at Arnish on the Isle of Lewis, as well as Methil and Burntisland in Fife, were dealt a significant blow yesterday when it was confirmed the company had entered administration.
It follows a string of events that started with the Scottish Government removing financial support for the manufacturing firm in October.
As a result, JV Driver, the parent company of BiFab's Canadian owner DF Barnes, confirmed that a multi-million pound turbine contract for the NnG Offshore Wind Farm had collapsed.
Holyrood and Westminster insisted that state aid rules gave them "no legal route to provide further financial support" to the afflicted firm.
Mr Mackay previously called for the mothballed Arnish yard to be "separated" from BiFab "as soon as possible" in order to bring future work to the islands.
The council has now confirmed that, in light of the firm's collapse, it is engaging with the Scottish Government to set up a multi-agency taskforce to explore the future use of the site.
Mr Mackay said: "We have previously discussed a taskforce with Scottish Government Cabinet Secretary Fiona Hyslop and it is now time to put that into action.
"Whilst today's news is disappointing it was apparent that Bifab's days at Arnish were numbered and this doesn't come as a great surprise.
"At least this should free up the Lewis yard to become a free standing agent and to hopefully attract other operators."
He added: "We will be seeking discussions with Scottish Government, HIE and workforce representatives with a view to convening an  Arnish Taskforce as soon as possible.
"The economy of the Western Isles is facing major challenges, more so than ever before. Now is the time for all parties to In response to the news, Economy Secretary Fiona Hyslop confirmed the Scottish Government will work with administrators and unions to "secure a new future" for the mothballed yards in Fife and the Western Isles.
Speaking after yesterday's announcement, Economy Secretary Fiona Hyslop said the Scottish Government is "ready to work with any company interesting in taking on the yards".
Arnish has lain dorment for more than a year after 80 workers were made redundant following the completion of a pin piles contract for the Moray East Offshore Wind Farm.
The lack of activity has sparked anger from the local community and earlier this year the Action for Arnish campaign was established to call for transparency from Holyrood on the terms of the lease with BiFab.
Iain MacLeod, the group's chairman, insisted there must be "no repeat performance" of the BiFab saga, adding that governments "owe it to the island" to ensure that a suitable operator for the yard is found.
He said: "The secrecy and evasions must now end. We have been deceived repeatedly over the prospects of BiFab bringing work to the island and there must be no repeat performance.
"We believe that when DF Barnes took over BiFab, they did so with genuinely good intentions on the basis of assurances given to them by the Scottish Government.  These were never fulfilled and so, time and again, BiFab missed out on work whlle Arnish lay idle.
"There is now no possible excuse for secrecy around the BiFab, HIE and Scottish Government deal. We know that there are others interested in using Arnish and there must be no delay in clearing the way for new tenants to emerge.
"Having been responsible for the current situation, the Scottish Government and HIE owe it to the island to support whatever investment is necessary to make the yard operational once again."