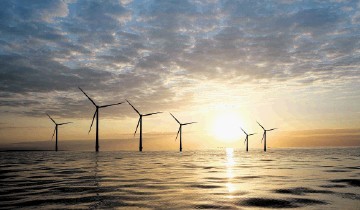 DEVELOPERS planning to build a huge offshore windfarm near Aberdeen have offered the Ministry of Defence a deal to withdraw its objection – and clear the way for the project to go ahead.
Eleven turbines could be built one-and-a-half miles from shore if the European Offshore Wind Deployment Centre (EOWDC) is approved by the Scottish Government.
As well as angering US billionaire Donald Trump – who opened a £100million golf course nearby – the project attracted crucial objections from the MoD and the National Air Traffic Service (Nats).
They fear the turbines will affect radar systems which keep aircraft safe in the skies above the north-east.
Last night it emerged that the developers – Vattenfall, Technip and Aberdeen Renewable Energy Group – have tabled an offer to cover the cost of tackling any interference.
Under the terms of the "windfarm mitigation contract" – detailed in papers released last night – the MoD and Nats would withdraw their objection.
Last night Mr Trump warned that if the deal allows the test centre to be built, he would mount a chal-lenge to delay it in the courts. He said his legal challenge be "my great gift to Scotland". Iain Todd, spokesman for the EOWDC project, confirmed a proposal was being put to the objectors.
"There is a new technological solution under development and we are confident that it will satisfy the MoD and Nats," he said.
Mr Todd would not divulge the details of the solution, but confirmed that it would be paid for by the developers and that he was "optimistic" it would be enough to win over objectors.
Mr Trump told the Press and Journal that, if the project goes ahead, he will sue the Scottish Government – and "at the very least hold the project up for a number of years".
"That will be my great gift to Scotland," he said.
"We have studied this issue in great detail and the objection from the Ministry of Defence is insurmountable.
"There is nothing that can mitigate the impact these hideous windmills will have." Mr Trump added: "The defence of the United Kingdom is far too important to tinker with, just to satisfy Alex Salmond's ego."
Mr Trump has opposed the project from the start, and has threatened to call a halt to remaining work on his golf resort at Menie if the plans are approved by the Scottish Government. But the team behind the £230million EOWDC say the scheme will ensure Scotland does not miss an opportunity to "lead the world" in the offshore wind field.
Earlier this month they announced they were increasing the size of some of the proposed turbines. They could be up to 651ft high under the changes, 12ft taller than previously planned.
The rotor blades of the structures would also be up to 15% longer, a difference of about 36ft.
However, the height of the turbines closest to shore would be reduced by more than 47ft.