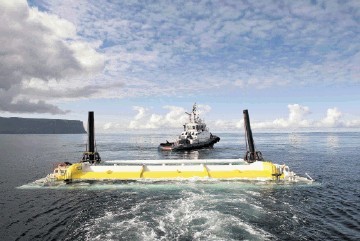 Pioneering green energy technology being developed in the north and north-east could help cut £50billion from UK energy costs and inject another £20billion into the economy.
A new report, published yesterday, outlined how Britain could become a world leader in carbon capture and storage (CCS), as well as marine renewables.
Shell and Scottish Southern Electric are expected to find out next month whether they have won UK Government funding to create a CCS plant at Peterhead.
A detailed analysis carried out by the Low Carbon Innovation Coordination Group, which includes the Scottish and UK governments among a range of bodies, is to be used to help determine where public sector investment is made.
The findings showed that innovation in CCS technology could reduce UK energy system costs by between £10billion and £45billion by 2050, and add up to £16billion extra to the economy.
Old oil and gas fields in the North Sea could be used to store carbon emissions for much of Europe, while existing expertise in the Aberdeen-based energy industry could help drive forward CCS, it added.
"The UK has world-class capability in the areas of offshore engineering which are applicable to transport and storage," it stated.
"Finally, the UK has large offshore storage capacity which could serve a number of northern European countries."
Meanwhile, innovation in wave and tidal energy could save the energy system up to £8billion and help create a UK industry worth up to £4billion by 2050. The Pentland Firth was named last month as the UK's second marine energy park. The UK's competitive advantage was said to be "very high", with 50% of available European wave resource, and 25% of European tidal resource.
Energy Minister Greg Barker said: "This new analysis will help us better understand the value of these technologies to our growing green economy, as well as the barriers to commercialisation, helping us put our available investment in the right place to spur on further innovation."
Labour's shadow energy minister Tom Greatrex said: "Britain is at the cutting edge of innovation in carbon capture and storage, but to realise its commercial potential, investors need certainty on funding not more government infighting. It would be unforgivable if the government squandered this opportunity."
Recommended for you

Aberdeen in line for jobs boost as Spirit unveils plans to repurpose gas fields