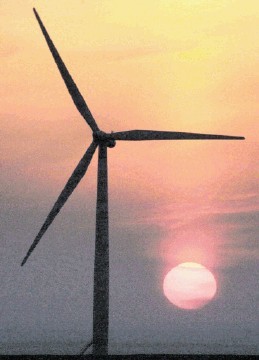 The Ministry of Defence has dropped an objection against a proposed windfarm – days before councillors will decide if it gets the go-ahead.
The organisation had opposed the plan for nine turbines near Huntly over concerns the scheme would interfere with radar set up at RAF Lossie-mouth.
But a further MoD objection to West Coast Energy's rural Cairnborrow project remains, regarding its potential impact the air defence radar system at RAF Buchan, near Peterhead.
The Welsh energy firm said the fact the MoD has accepted mitigation measures regarding RAF Lossiemouth represented a breakthrough. The company said there was also "significant progress" in measures to safeguard RAF Buchan radar, where a solution is expected to be achieved shortly.
West Coast Energy planning and development director Steve Salt said yesterday: "We are extremely pleased the MoD is satisfied with our proposals and has removed its objection in respect of the RAF Lossiemouth radar.
"A mitigation solution for the impact on the radar at RAF Buchan is close at hand. We are working with the MoD to resolve the matter."
He said the firm understood the vital role the Aberdeenshire RAF bases play in protecting Scotland and the rest of the UK.
With the radar concerns now being tackled, he hoped the application will be determined on its merits and economic, social and environmental benefits.
The planned Cairnborrow windfarm would include a community turbine and provide £6million over its 25-year lifetime for local projects in Huntly and surrounding area.
Aberdeenshire planners have recommended the windfarm application be refused, a key reason being the objections from the MoD.
Marr area councillors are expected to reach a verdict on the Cairnborrow scheme on Tuesday following a site visit.
Recommended for you

Government sets aside £3.5m to look into impact of turbines on air defence