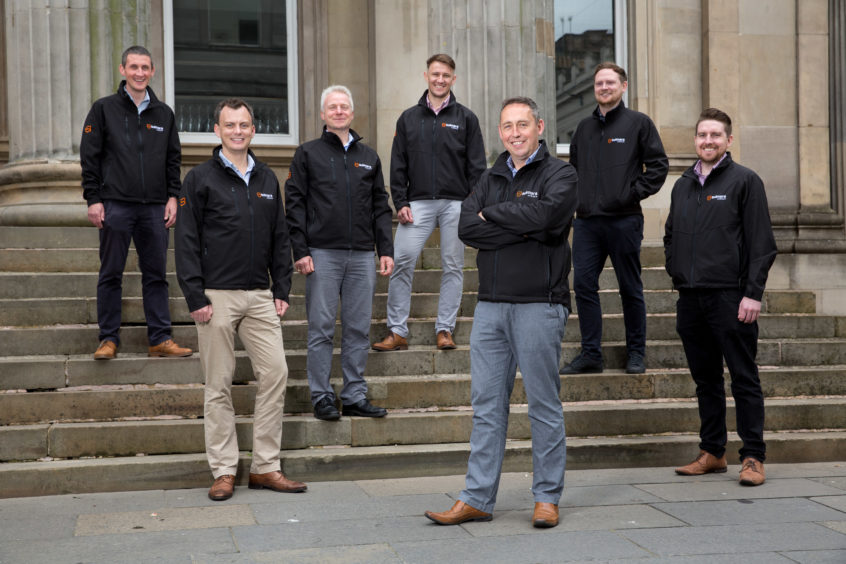 Sulmara Subsea, an up-and-comer to the offshore surveying sector, is planning a major recruitment drive in 2021, while taking steps to offset its carbon emissions.
The firm, which kicked off in March 2019, plans to double its global workforce of 60 this year, with a similar effect on its Aberdeen workforce – currently standing at six onshore and 14 offshore.
The firm, going from a single client last year to over a dozen now, has main offices in Houston, Aberdeen, Glasgow and Singapore, as well as operations in the likes of Norway, Mexico and Taiwan.
And while that expansion continues, the firm is moving to ensure it's on the right side of the net zero debate. It claims it is one of the first in its sector globally to do so.
CEO Kevin McBarron launched a study in 2019 for a full assessment of the Sulmara's emissions and, working with carbon finance consultancy South Pole, the company has invested thousands of pounds in initiatives to offset the its 1,000 tonnes of CO2 generated last year.
"Part of the reason to do this is it's the right thing", McBarron said, "but of course we want to grow the business, we want to be successful".
Rather than being conflicting initiatives, Sulmara sees the two going hand-in-hand. Recognising the momentum behind net zero but also the need to keep costs under control and produce strong results for customers.
"What happened in our sector in the last couple of downturns was cost had become king. Any headspace or bandwidth that a company had for innovation or doing things differently, was really kind of pushed out of the market.
"What happened then was the services became very commoditised. No one was thinking about offsetting carbon, everyone was just trying to survive, to a large extent."
However, around the third quarter of 2018, McBarron decided to launch a business that "aligned with a lower-carbon footprint offering", with a focus on innovation, leading to Sulmara.
He used the example of a 2019 job conducted with an remotely-operated vehicle support vessel (ROV SV), which took 90 days to complete with heavy emissions, and then deciding to trade up for an autonomous system.
"A few of us got our heads around the table and said 'look this is this huge vessel spewing out 14tonnes of CO2 a day, we think we can be smarter with this'."
The team figured out that using an unmanned surface vehicle (USV), they could survey areas at a faster speed which slashed time, cost for the client and a huge chunk of those emissions.
Using the iXblue DriX system in 2020 they carried out a surveying job lasting 45 days, emitting 4,000 cubic metres of CO2.
"If we'd done that same project again, as we've done in 2019 and 2020, with an ROV SV moving at one knot with the ROV. That's a 200-day campaign, it's 4.7million cubic metres of CO2", McBarron said.
"The nice thing for us was it wasn't just about the CO2. Because it was smart, it was innovative, we saved the client a lot of money in terms of the delivery of that.
"It can't just be about lower carbon, it needs to add value. If we don't have that added value for the end client, no one is going to pay for it, no one is going to buy into it."
Sulmara is currently 75% oil and gas and 25% renewables, but expects that to switch by next year.
Taiwan and the US are some major renewables spaces for them, but they are "not walking away from oil and gas", McBarron said, recognising it still has plenty of longevity, "It's the energy sector as far as we're concerned".
Having moved into new offices in Belgrave Terrace in Aberdeen last year, the UK business has remained profitable in 2020, taking work in Europe and Africa.
McBarron said: "It's been a tough year, but the guys have done a great job and we expect to bring more jobs into Aberdeen and help support that office's growth in 2021."
Sulmara's efforts, which include investment in tree conservation projects in Zimbabwe and Congo, as well as community schemes in other developing nations, deserve plaudits.
But is this leading to extra work from their oil firm customers who have touted net zero (including supplier emissions) so heavily?
"I would say no, as yet. People are still very much focussed on 'can you deliver a good product at the right price?'
"But I think anecdotally we all see the press. BP carbon neutral by 2050, the UK Government 2050, Scottish Government 2045. So I do think there's a level of ambition there, it does feel like we're turning a corner."
Recommended for you

Gas key for energy transition as Indonesia seeks $179bn upstream investment