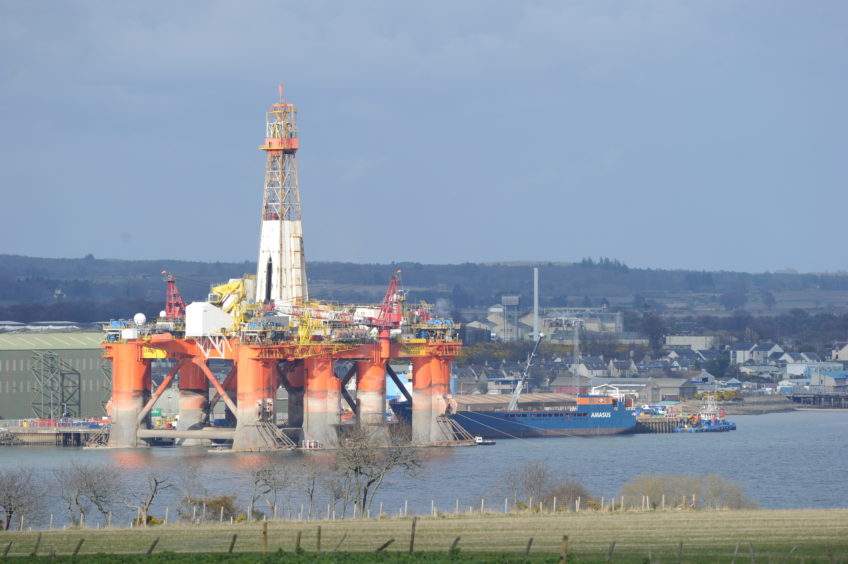 Global Energy Group's new group chief executive has described the firm as "probably the best positioned organisation in the whole of the UK" to make the most of the expansion in offshore renewables.
Tim Cornelius said his main goal is to establish the Port of Nigg, which is owned and operated by Global, in the Cromarty Firth as the "number one renewables hub", capable of offering a range of services to clients.
It was announced yesterday that Mr Cornelius had been appointed to the newly created role at the Aberdeen and Inverness-based firm.
He will take on the responsibilities of CEO from chairman and majority shareholder Roy MacGregor, who had been carrying them out until now.
Mr Cornelius, who was appointed non-executive director at Global in January 2020, will be responsible for the group's financial performance and for managing its ongoing decarbonisation efforts.
He said: "First and foremost my plan is to establish Nigg as the number one renewables hub in the country. I want it to be the biggest, the busiest and to be a broad church, with as many projects operating their as possible and original equipment manufacturers on site.
"We want to be able to offer services right the way across the broader marine renewables space for offshore wind, as well as to position the yard specifically for what we believe will be a big boom in the floating market off the back of ScotWind.
"We're also looking to work more closely with developers to see what types of assets we can be building as Global to better serve their needs and to meet the UK's offshore wind targets."
In order to achieve this, Global is looking at investing in tower-rolling facilities, expanding its quayside and better integrating the UK's steel industry with the supply chain.
Last year, the firm announced £100 million plans to build what was described as the "UK's largest offshore wind fabrication facility" at its Nigg facility.
It claimed the move could create up to 150 new jobs, while a further 300 would be supported through the local supply chain.
Mr Cornelius added: "We're going to need a lot of deep-water ports in and around the Cromarty firth to service what we anticipate to be a growth in the bottom-fixed and floating markets.
"Nigg is already one of the busiest yards in the UK with respect to servicing multiple, very large active offshore wind projects such as Beatrice, Moray East and Seagreen.
"We recently updated the market on our investment to increase the East Quay and we're already making good progress on that point.
"It's very important to us that it's not just talk and we're actually walking the walk. We're looking at different ways to decarbonise our own operations, including the use of both hydrogen and renewables on site at Nigg for existing and new facilities.
"Global has set itself up in such a way, in terms of its real estate and the services it offers, that I genuinely believe it is probably the best positioned organisation in the whole of the UK to benefit from the offshore renewables boom."
'More pairs of hands'
Global, which employs more than 1,500 people, making it is the largest private employer in the Highlands, was set up by Invergordon-born Mr MacGregor in 2005.
On why he chose now to bring in a CEO, Mr Cornelius said: "Obviously I can't speak on behalf of the chairman but in the interactions I've had with him, I think it became obvious when Nigg increased its activities that a transition was definitely already occurring, with respect to seeing more capex being committed to the renewables sector.
"The company is growing and continues to do so – it's a very broad church already across the energy sector. Our commitment, and his, is to build an all-encompassing energy company, capable of providing services to all the majors, be they hydrocarbon or utilities. As with every organisation, as you grow you need more human resources to manage the size and the scale.
"I think the chairman acknowledged that, as Global expanded, he just needed more pairs of hands to come in and provide some support. That's my role because in the next five years, growth is looking exponential."
Simec Atlantis
Earlier this month, it was announced that Mr Cornelius would leave his position as CEO of Simec Atlantic, formerly Atlantis Reources, at the end of January after 15 years.
He agreed to take up a new role as senior adviser to the firm, which is behind the MeyGen tidal array in the Pentland Firth.
Mr Corenlius moved into marine renewables in 2000, before which he worked in the oil and gas industry as a commercial diver and ROV pilot.
Responding to a question on how his time at Simec Atlantis will influence his new role, he said: "First and foremost is new opportunity origination from a business development perspective. A lot of the skills that I learnt at Simec were around creating new markets and working with customers in order to deliver products.
"Secondly, I developed a particular skillset in fundraising and project finance. That will become particularly important as we continue to look to invest in new facilities and in people.
"Finally, the skills associated with running a diverse and complex business. That's people skills as much as it is stakeholder and investor management. These are all very translatable to the Global story."