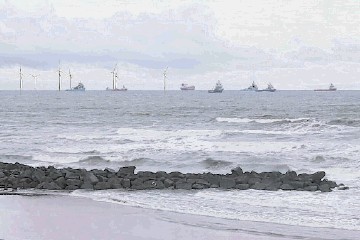 The potential impact of a planned offshore windfarm on the Buchan area will be debated by councillors next week.
Proposals to build 11 turbines off the coast of Aberdeen have already attracted the ire of Donald Trump, the Ministry of Defence and the National Air Traffic Service (Nat).
On Tuesday, members of Aberdeenshire Council's Buchan area committee will get the chance to voice their views on the scheme.
Feedback will be passed to Marine Scotland, which will have the final say on the planning application.
The turbines will be about 13 miles from the Aberdeenshire coast and are likely to be visible from Buchan vantage points, including Slains Castle at Cruden Bay.
Councillors will be asked to discuss concerns that the masts could pose a hazard to birds roosting at the Bullers O' Buchan, the cliffs south of Peterhead. Planning officers have received nearly 600 letters and e-mails about the scheme – the vast majority in favour.
But US billionaire Mr Trump has spoken out against the development, arguing it would destroy the view from his new £100million golf course at Balmedie. The MoD and Nats have both raised concerns that the development could interfere with radar equipment.
A report which will be presented to councillors next week says that the height and specifications of the turbines are not yet known. Developers behind the £230million EOWDC recently announced they were reviewing the size of the devices.
They could be up to 651ft high under the changes, about 12ft taller than previously planned.
However, the height of the turbines closest to shore would be reduced by more than 47ft.