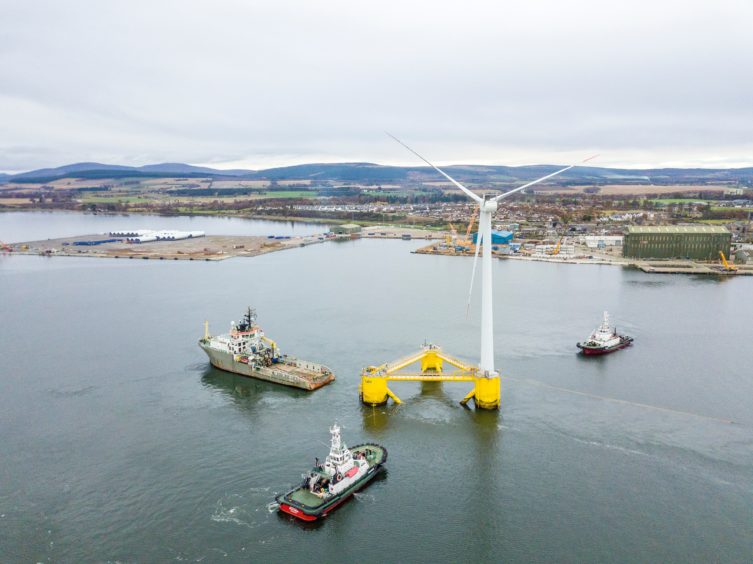 A new "global centre for excellence" in renewable energy technologies is to be opened in the Highlands.
The facility, named The Power House, will focus on applied research and development in the fields of floating offshore wind and green hydrogen and offer educational opportunities for students, workers and school children.
It will also provide re-training for people who have worked in other energy industry sectors, such as oil and gas and nuclear.
Backed by the Opportunity Cromarty Firth (OCF) private and public partnership, the centre will be based at North Highland College UHI's Tern House campus, at Alness Point Business Park, in Easter Ross.
Gary Campbell, vice-principal for strategic developments at the University of the Highlands and Islands (UHI), said: "The Cromarty Firth's economy and community are in pole position to benefit from the growing revolution in renewable energy over the coming decades.
"The Power House is an exciting opportunity for the University of the Highlands and Islands to collaborate in research and knowledge exchange with industry and with other university partners at the cutting edge of this field".
Speaking on behalf of OCF, Port of Cromarty Firth (PCF) chief executive, Bob Buskie, added: "We are delighted that the University of the Highlands and Islands and North Highland College UHI have agreed to host the Power House at Tern House.
"This global centre of excellence is a hugely influential part of Opportunity Cromarty Firth's plans and will provide a vital educational tool not only for the renewable experts of today to find innovative solutions, but also in developing the Scottish workforce of tomorrow.
"The Power House will play a vital role in ensuring that the highly-skilled jobs needed in the floating offshore wind and green hydrogen sectors go to Scottish workers, as well as linking up research and industry to develop innovative new technologies on Scottish sites."
Launched last year, OCF's membership is made up of around a dozen public and private sector organisations, including the Global Energy Group (GEG), Highland Council, Highlands and Islands Enterprise (HIE), UHI, Inverness Harbour Trust, Skills Development Scotland (SDS), Semco Maritime and the PCF.
The group said it was in initial discussions with a wide range of universities and research organisations to understand the types of research that would take place at the new facility and the time scales involved.
The Power House is one of five interlinked projects that OCF has identified as central to its aim of ensuring the Cromarty Firth becomes a "strategic national renewable energy hub", playing a key role in developments predicted to be valued at up to £26billion over the next 50 years.
Plans include the creation of a manufacturing plant at GEG's Nigg Energy Park and development of a "green hydrogen hub."
Mr Buskie added: "The importance of these projects to the Cromarty Firth, and to Scotland's economy more broadly, cannot be underestimated. They would bring skilled jobs and high-wage opportunities to the Highlands on a level not seen since the oil boom of the 1970s."
Recommended for you

Offshore wind a chance to 'reverse multi-generational' Highlands skills exodus