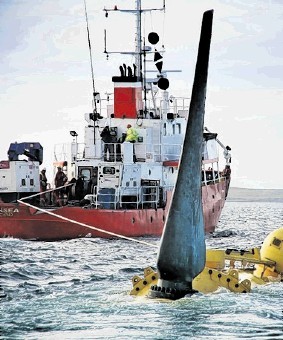 Alstom has struck a deal with Rolls-Royce to acquire Tidal Generation Limited (TGL), a wholly-owned subsidiary based in Bristol for a so far undisclosed sum.
TGL is the latest in a string of home-grown maritime renewables to fall prey to foreign interests, thus further eroding an already fragile British lead in the maritime segment of sustainable power generation.
It was acquired by R-R in 2009, so that ownership has been brief.
The Bristol firm specialises in the design and manufacture of tidal stream turbines and is expected to come under French group Alstom's control within the next few months, subject to closing conditions.
TGL is at the forefront in the design, development and manufacture of tidal stream turbines which capture and convert the energy of tidal streams to generate electrical power.
TGL's first 500-kilowatt unit was successfully installed at the European Marine Energy Centre (EMEC), Orkney last year. It generated and fed into the grid over 250MWh (megawatt hours) of electricity averaging 12 hours of predictable operation each day.
This acquisition reinforces Alstom's position in renewable power as the company claiming the broadest and most complete range of products and systems, from hydro to wind, geothermal, biomass and solar.
Alstom says the UK firm's technology will complement its own on-going research and development activities on ocean energies that are based in Nantes, France.
It gives the French group the opportunity to build a complete portfolio of tidal products and technologies which it considers necessary to cover the wide range of site conditions and to meet all customer needs.
TGL, which employs 29 people, is expected to benefit from Alstom's experience in the energy industry, its global presence in 100 countries and its integrated offer, including power generation and transmission.
Dick Winchester, Energy columnist and member of the Scottish Government's Energy Advisory Board, is concerned about the erosion of the UK's technological lead in maritime renewables.
He told Energy: "The acquisition by Alstom of the Rolls Royce-owned Tidal Generation Limited is the third such strategically important sale of a UK marine renewables company to a foreign owner in the past few years.
"The first was Wavegen of Inverness, a wave energy company which was sold to the German company Volth Hydro and the second was the sale of Marine Current Turbines to the German company Siemens.
"Given the other two main tidal energy technology contenders are Norwegian and Australian and that the other wave energy companies appear to already have a large foreign ownership content it seems evident that while others recognise the potential in these companies, their technology and the energy resource of tidal and wave, the UK either can't or won't.
"It's the same old story. While we are great at developing the ideas, we invariably fail to exploit the opportunity."
TGL has been developing tidal devices since 2005 and was the first EMEC located project to receive UK Renewable Obligations Certificates.
As part of the Energy Technologies Institute commissioned and co-funded ReDAPT (Reliable Data Acquisition Platform for Tidal) consortium project, TGL's 1MW tidal turbine will be installed at EMEC by the end of this year and will be tested in various operational conditions off Orkney over a two-year period.
Detailed environmental and tidal stream information will be measured to help the marine renewable industry understand the challenges that must be addressed for tidal technology to be developed on a commercial scale.
Steve Burgin, President of Alstom UK, said: "This is a tremendous development for Alstom because it puts us in a real leadership position across not just tidal power or renewables but clearly demonstrates our commitment to lower carbon power in the UK as a whole.
"With today's acquisition, we've got an incredibly exciting opportunity to take a technology that's right at the start of its deployment to commercial scale in the future.
"As a group we can now offer lower carbon solutions to meet all needs – from gas-fired power stations to a whole range of renewables, from offshore wind to marine to biomass – that will not only help reduce emissions but also keep the UK's power flowing."
Recommended for you

 Shipping column: Greener OSVs, Diamonds and Northern Lights