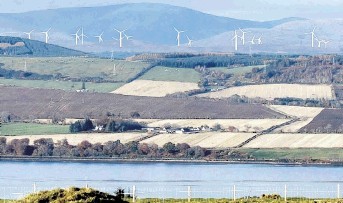 Councillors are concerned that extra funding being made available to help local authorities deal with large numbers of windfarm applications won't be enough to meet demand.
They have questioned how far a share of the £280,000 will go in terms of hiring additional planning department staff.
SNP ministers are inviting authorities dealing with a significant rise in wind turbine applications to bid for some of the funding.
Moray and Aberdeenshire councils have both considered introducing moratoriums on wind turbine applications, given the high number of them submitted in recent years.
Planning Minister Derek Mackay said the new money would hopefully prevent that from being necessary.
"We know that some planning authorities are experiencing particularly high volumes of applications for wind turbines, and the funding will help by bringing in expertise, or more staff, to deal with the applications," he said.
"I have made clear that I do not think a moratorium on applications is appropriate but would cause undue delay and uncertainty for everyone involved."
The government has made a total of £300,000 available but is holding back £20,000 to monitor how councils use the money.
Moray Council planning convener Douglas Ross said: "This funding is very limited compared with the number of applications councils such as Moray are receiving.
"There seem to be conflicting messages from the Scottish Government. On one hand they want to increase renewable energy and promote onshore wind turbines but they are only making £280,000 available to authorities to overcome the large number of applications."
Aberdeenshire councillor Jim Gifford, who represents Mid Formartine, said the sum being offered to councils was almost a "token gesture". He added: "We need more people to work with and more people cost more money — that is the bottom line."
"If we get 10%-15% of the funding we will be doing very well but it is not going to go very far." Peter Argyll, chairman of Aberdeenshire Council's infrastructure services committee, added: "Any financial assistance we get is welcome but it would have to be meaningful." Councils must submit funds bids by October 19.
Recommended for you

Aberdeenshire resident of 40 years objects to 820 ft turbines