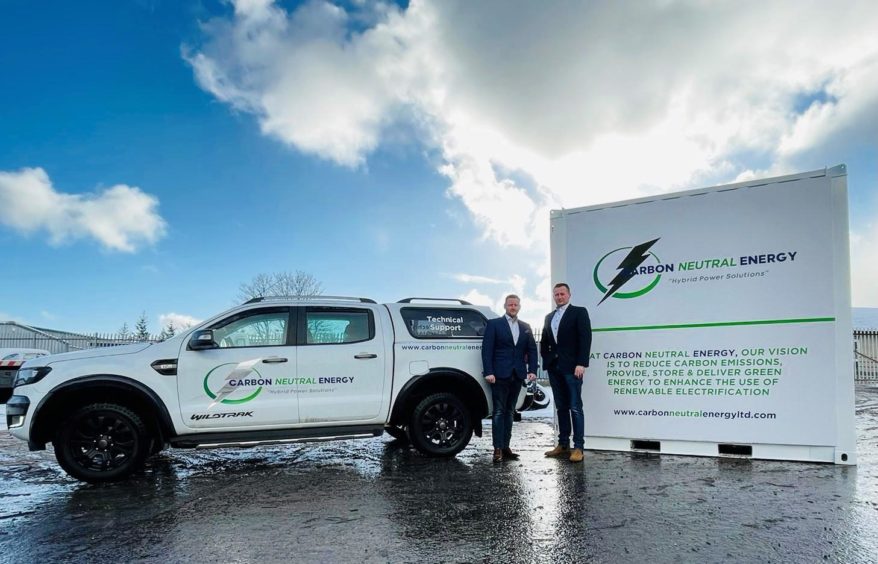 Serial entrepreneur Mark Patterson is preparing to launch a "major fundraising exercise" for his new mobile green battery business.
Mr Patterson intends to raise a total of £300 million in stages over the next five years for Carbon Neutral Energy (CNE), which he hopes will create up to 200 jobs over the same period.
He formed the Aberdeen-based company in February 2020 alongside his two sons, Harry and Philip, after spotting a yawning gap in the energy market for electricity storage technologies.
CNE's systems store and supply green electricity, helping address the problem of intermittent supply from wind and solar farms — and the "inadequacy" of the UK's power infrastructure.
Wind farm operators get "constraint payments" to switch off turbines when the grid cannot cope with the amount of electricity they are generating. These payments can amount to tens of millions of pounds a year.
CNE has already secured a long-term agreement to receive green wind power for charging its batteries with renewables firm Muirden Energy, headquartered in Turriff, Aberdeenshire.
The firm's modular, long-life units range in capacity from 1-5 megawatts and can currently be delivered fully-charged to customers in four months.
The eGen range includes smaller static units, which can be combined to make "mega storage banks", and larger mobile modules.
It also boasts charger units, which can be hooked up to wind farms or directly to the grid.
Mr Patterson said the products, which currently use lithium-ion technology, would be ideal for ports, construction sites, hospitals, supermarkets, businesses and roadside charging in remote locations.
His expectation is that customers would sign long-term rental agreements, running for 5-10 years, for the units.
The batteries will be manufactured and provided to CNE by "numerous suppliers".
Mr Patterson will hold the chief executive role on an interim basis while CNE gets up and running and secures investment, at which point he will step away from the top job.
The oil and gas industry veteran played a key role in creating Granite City-based Balmoral Group.
He joined Nautronix in 1996 before teaming up with businessman Ian Suttie to acquire the business in 2002. It was sold to private-equity house SCF Partners in 2010.
Mr Patterson linked up with industry stalwarts Alasdair Locke and Paul Warwick to form decommissioning business Well-Safe Solutions in 2017.
He left Well-Safe in 2019 after securing a £66m investment from MW&L Capital Partners.
CNE is separate from the Patterson family's Aberdeen-based investment group Mansefield, which has put money behind the new battery venture.
Mr Patterson, who is also CNE's chairman, said of his latest venture: "Green power has advanced but the challenge in storing that power leads to significant waste.
"The drive towards electrification, coupled with the rising need for energy storage, means there is a massive, global demand for our systems.
"Capacity has been lacking for years, leading to in excess of £100m of taxpayers' money being spent some years to stop wind farms producing.
"This could be diverted into storage and delivering the power when we need it.
"This can significantly enhance grid capacity and fast-track green power distribution across the UK.
"Being able to deliver green power to remote sites, for example, is a game-changer for connectivity in relation to electric vehicles.
"The applications for sizeable electric storage systems are immense and the need is right now."
Harry Patterson, chief operating officer of CNE, said: "With the global drive to electrification we need to up our game when it comes to power storage.
"If we are to achieve net-zero ambitions, government will need to change strategy and invest significantly in battery storage.
"We believe we have developed a simple solution to a significant challenge, at precisely the right time, with a unique commercial offering that will allow rapid adoption across several sectors.
"Our product can quickly and effectively help the transition to electrification by supplying clean, portable power while providing large-scale storage for that power.
"Through long-term contracts, we will supply the green power customers want to move to, minimising the major capex of costly infrastructure."
Recommended for you

What the UK green hydrogen market can learn from battery storage