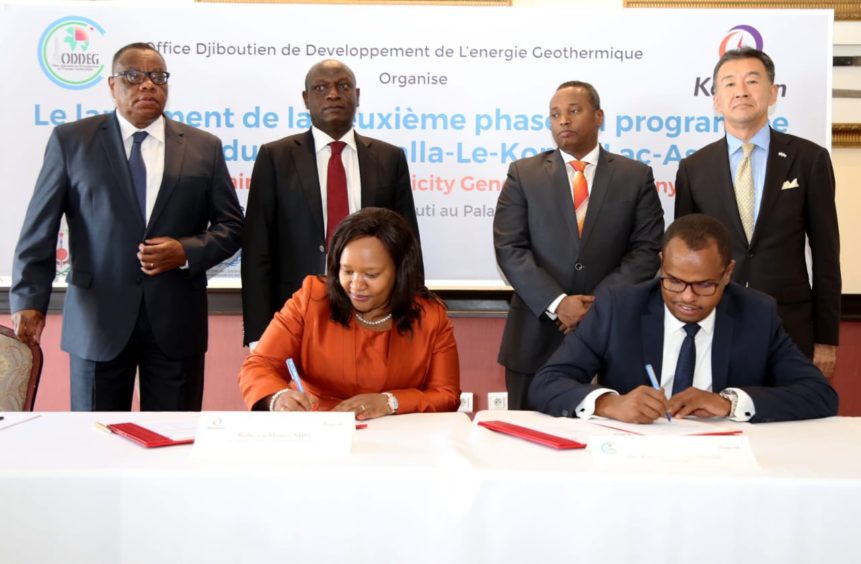 KenGen has won a $6.45 million contract to drill three geothermal wells in Djibouti.
The Kenyan company signed a contract with the Office Djiboutien De Development De lenergie Geothermique (ODDEG).
The two companies held a ceremony in Galla Le Koma, Djibouti. This involved Kenya Energy Cabinet Secretary Charles Keter and KenGen CEO Rebecca Miano. Djibouti Energy Minister Yonis Ali Guedi was also in attendance, as was Japan's ambassador Umio Otsuka.
KenGen African Energy Growth
The KenGen official expressed the aspiration of continuing to grow beyond Kenya. In the next two years, the company aims to "have considerable presence in countries within the Continent. It is also worth noting that we are not only keen on increasing our presence in Africa, but also enhancing energy capacities across the region."
Miano went on to say the contract scope covers the drilling of "two confirmed and one optional well for ODDEG in Galla Le Koma, using a single shot directional drilling procedure. We have confidence in our team's ability to deliver this project."
Djibouti announced plans to secure geothermal energy in September 2020, after securing funds for this work from the Kuwait Fund for Arab Economic Development (KFAED) and Arab Fund for Economic and Social Development (AFESD).
The ODDEG said the planned geothermal project in Galla Le Koma would have capacity of 15 MW.
Geothermal energy growth
KenGen has previously won a $53mn contract to drill 12 geothermal wells in Ethiopia, in October 2019. It has also developed partnerships in Rwanda on renewable energy development.
Kenya began tapping its geothermal potential in the 1950s, Keter said.
"To date, we have drilled more than 300 wells within the Olkaria field, which is the bedrock of Kenya's geothermal energy production. As a country, we have a geothermal energy potential of 10,000 MW along the Rift Valley with the resource being harnessed in 23 sites," he said.
KenGen Renewable Energy Push
In Kenya, geothermal makes up 29% of the country's energy mix – equal top billing with hydropower. KenGen is Africa's leading geothermal power producer.
Djibouti aims to be the first African state to run entirely on renewable energy, by 2035.