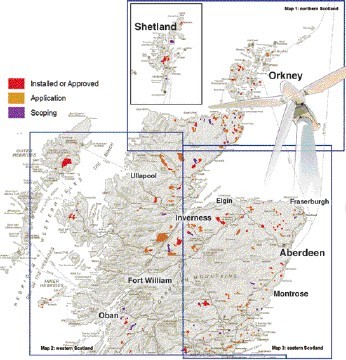 A new map has been released showing the proliferation of windfarms across Scotland.
But campaigners say it does not show the full extent of the planned developments.
The graphic, drawn up by Scottish Natural Heritage, details more than 540 proposed or approved renewable energy sites across the whole of the country.
It also details sites where "scoping" is taking place – which means developers are testing whether the site is suitable for turbines.
In particular, the pressure on iconic beauty spots such as Loch Ness is laid bare.
Proposals along the Great Glen include SSE's plans for 83 turbines at Stronelairg, east of Fort Augustus, and for 36 devices at Bhlaraidh, near Invermoriston.
There is also a cluster of developments in the Caithness area, and applications in central Sutherland have also increased. But other significant developments have been missed off the map, including Vento Ludens' plan for 19 turbines at Brown Muir, between Elgin and Rothes.
A spokeswoman for Aberdeenshire-based group, Concerned About Wind Turbines group, said she felt the SNH map did not give the full picture.
She said: "It is concerned primarily with the windfarms, not with the smaller turbines which we are seeing an increase of in Aberdeenshire."
But an SNH spokes-woman said: "The challenge is to make sure the right developments happen in the right places."
Recommended for you

West Orkney wind farm becomes first ScotWind project to submit consents