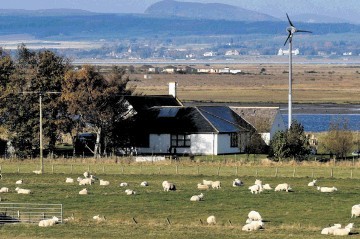 Wind turbines will start spinning in north school playgrounds next month despite continuing concern about children's safety.
Highland Council announced yesterday that site-specific risk assessments had concluded the 16 turbines already installed were safe to operate.
But some parents and councillors remain worried and said that despite the new assessments they are still not convinced children are not in danger.
Highland councillors previously raised concerns that there was no exclusion zones or fences around the turbines in the 16 schools.
Children at Raasay School were sent home after a wind turbine beside the island school broke up in 2009. One of its blades was found embedded in the ground nearby. Highland Council switched off the devices in May after independent consultants said extra safety measures might be needed.
They announced yesterday that, although the assessments concluded the turbines could safely operate at wind speeds up to 134mph, the council had agreed that no turbine would operate in wind speeds exceeding 100mph.
Other measures including erecting 6ft fences will also be introduced before the turbines are switched back on.
Castletown Community Council member Brenda Herrick said she remained concerned about youngsters' safety and has asked the council for more information, including the size of exclusion zones.
She added: "It doesn't matter how many safety assessment you do, there is still the possibility of blades breaking off the structure and going into the playground. How can you guarantee the safety of this machinery? I mean it's not just human error, these things can just happen. I just don't know if its worth it."
Landward Caithness councillor Robert Coghill said although he had not read the report, he still had concerns not enough had been done to "negate the risk of accidents happening".
Steve Barron, depute chief executive and director of housing and property, said: "The council takes the issue of safety in schools very seriously and where additional measures are deemed necessary these will be planned and undertaken in consultation with head teachers and the council's health and safety team."