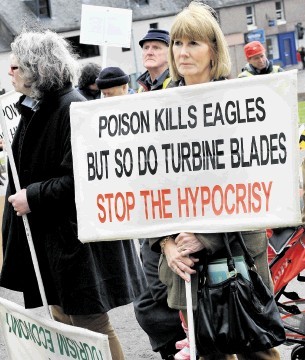 The Scottish Government has defended its windfarm energy policy and insists it has a responsibility to "seize" the opportunity to create tens of thousands of jobs.
A spokeswoman said the country had "astounding" green energy potential due to its vast natural resources and developments would be approved only in suitable areas.
However, an anti-windfarm campaign group claimed First Minister Alex Salmond was "running amok" with the policy – to the detriment of people in rural communities.
Kim Terry, of Communities Against Turbines Scotland, said people would be "horrified" to learn about the volume of windfarm applications that developers had submitted to councils since 2007.
She claimed councils and wider communities were benefiting financially from windfarms, but people who lived next to them were losing out and many homes were rendered valueless.
Referring to the figures, Ms Terry said: "It is absolute madness and it is getting worse. David Cameron is happy because most windfarms will be in Scotland and the biggest Tory vote is in England.
"Alex Salmond is running amok with this, to the detriment of a lot of people in rural areas."
The government spokeswoman said Scotland was home to a quarter of Europe's offshore wind potential. We have a responsibility to ensure our nation seizes this opportunity to create tens of thousands of new jobs and secure billions of pounds of investment in our economy. This was illustrated yesterday by the signing of the agreement between the first minister and Areva that will bring 750 jobs to Scotland.
"The Scottish Government believes that windfarms should only be built in the right places and provides a variety of support for local authorities to ensure that happens."