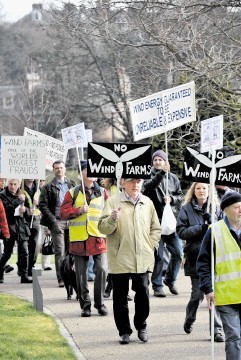 A CAMPAIGNER has resurrected a political party to fight the march of the turbines and is aiming to get MSPs elected to Holyrood on an anti-windfarm ticket.
Prominent north councillor Jim Crawford believes voters could flock to support the reborn group amid growing anger over the number of masts.
He thinks the Countryside Party could even end up holding the balance of power at the Scottish Parliament.
The independent politician – who is a founder member of the organisation and a longstanding opponent of turbines – also accused First Minister Alex Salmond of "grandstanding" over the green energy issue.
He said the SNP leader was on a mission "to be regarded as some sort of world leader".
The Highland Council member added: "It just needs people in affected areas, whether it's Caithness, Moray, Aberdeenshire, south-west Scotland or south of the border, to make their mark at an election."
The Countryside Party, which has been dormant since contesting UK and European elections almost a decade ago, wants a moratorium on further schemes. It claims windfarms are "economically flawed and ruin the countryside".
Inverness-based Mr Crawford claimed yesterday that turbines had proved to be "economic nonsense" and produced barely 25% of their potential energy, as well as costing billions of pounds to support.
He said: "In an era of soaring electricity bills, countless people opposed to this useless and massively publicly subsidised industry have been disenfranchised.
"Those people's opinions count for nothing, with the SNP in Scotland and every other party in the UK now intent on promoting this ludicrous technology.
"If ever there was a time for the Countryside Party, this is it. If we got candidates into Holyrood, there's the potential for holding the balance of power."
His rallying call followed yesterday's renewed UK Government commitment to windfarms and a Scottish Government announcement this week that green targets were being met.
Anti-windfarm campaigners were quick to support Mr Crawford's idea.
Lyndsey Ward, of Kiltarlity, near Inverness, said: "We need a voice and I would encourage Jim Crawford to go ahead with his proposition. It would get a lot of support from rural communities."
Mountaineer George Herraghty, from Lhanbryde, near Elgin, said he would support the reconstituted party and would welcome a moratorium to allow time for the public to have their say.
Andrew Shiells, of the national protest group Communities Against Turbines Scotland, said: "Mr Salmond has an effective majority of one at the moment and he doesn't have a mandate to destroy Scotland's countryside.
"We would support any anti-wind turbine candidate in any by-election in order to demolish the SNP's majority, irrespective of which party got in."
Jenny Hogan, of the trade body Scottish Renewables, welcomed the Scottish Government's renewed commitment to its green energy targets.
She said: "The economy, energy and tourism committee rightly concludes that renewable energy is not only crucial to reducing greenhouse gas emissions but is also good for energy security and protection against volatile energy prices."
A spokeswoman for the Scottish Government said: "Windfarms and other forms of clean, green energy create opportunities for communities across Scotland, enhance energy security and are delivering jobs and investment."
Recommended for you

5 things you need to know about the next prime minister after Perth Hustings