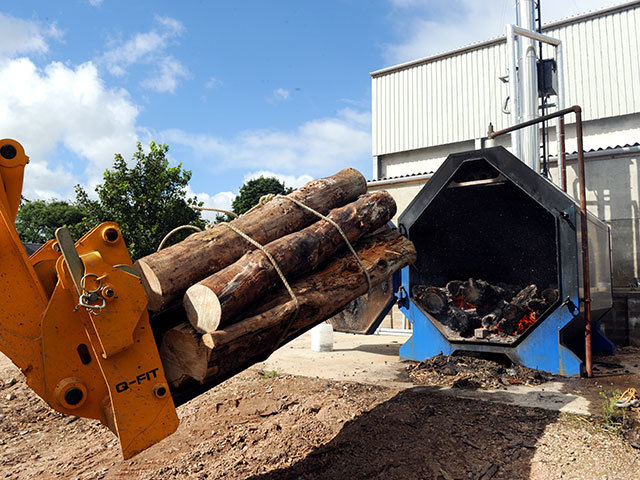 Ørsted, Aker Carbon Capture and Microsoft have teamed up to explore ways to support the development of carbon capture and storage (CCS) at biomass-fired heat and power plants in Denmark.
The trio will work together to address technological, regulatory and commercial challenges and opportunities for creating negative emissions through CCS, with each party fulfilling "crucial and distinct commercial roles".
Danish renewables giant Ørsted currently has six biomass-fired units, providing around a quarter of the Scandinavian country's district heating.
The fuel comes from "sustainably managed production forests" and surplus wood, such as sawdust from sawmills.
Under the terms of the memorandum of understanding, Ørsted, Aker Carbon Capture and Microsoft have agreed to:
Explore the possibility to jointly develop a negative emission project at one of Ørsted's biomass plants in Denmark, potentially using Northern Lights where Microsoft is an existing partner.
Explore a technology collaboration to integrate Microsoft's digital expertise into a biogenic carbon capture project with Aker Carbon Capture's health, safety & environment (HSE) friendly capture technology.
Explore ways for Microsoft, Aker Carbon Capture, and Ørsted to jointly accelerate the development of a biogenic carbon capture project.
Explore and establish advocacy of policies that help accelerate the negative emission frameworks in European countries.
CCS is widely accepted as an important instrument to meet the Paris Agreement's goal to limit global temperature increases to 1.5°c.
Ole Thomsen, senior vice president at Ørsted, said: "Carbon capture will most likely be an important part of the green transition, and we see opportunities for capturing the carbon at some of our biomass-fired heat and power plants and either store it underground in order to achieve negative emissions or use the carbon for the production of green fuels in Power-to-X facilities.
"Therefore, we're currently exploring the regulatory, technical, and economic possibilities of carbon capture at our facilities."
Microsoft, which claims to have been carbon neutral since 2012, currently participates in several global initiatives to drive the reduction of carbon emissions.
Nana Bule, general manager, Microsoft Denmark and Iceland, said: "Partnership across sectors and digital innovation are key in the fight against climate change. The plan to achieve the Danish ambition of 70 % carbon reduction by 2030 relies in part on carbon capture and storage at scale, and we're excited to support this alongside Ørsted and Aker Carbon Capture."
Aker Carbon Capture, which was recently spun off by Aker Solutions, has been developing carbon capture technologies for more than a decade.
Valborg Lundegaard, the firm's CEO, said: "The relationship with Ørsted and Microsoft opens for a potential first-of-a-kind, accelerated biogenic CCS project.
"Focusing on HSE-friendly capture, Aker Carbon Capture will bring its leading capture technology to accelerate the delivery of a full biogenic CCS value chain."
Recommended for you

Aberdeen in line for jobs boost as Spirit unveils plans to repurpose gas fields