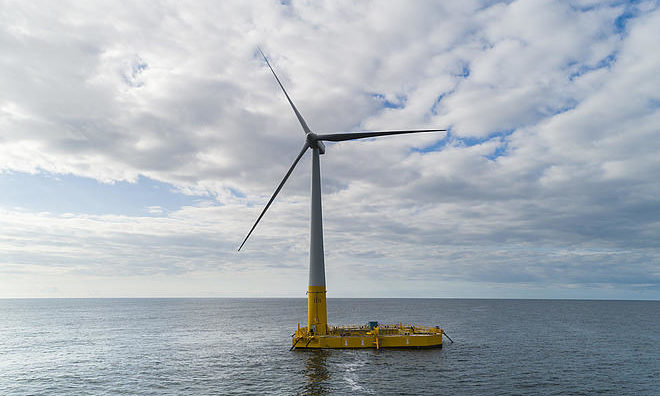 The potential for Scottish businesses to produce commercial scale concrete foundations for floating wind projects is to be explored by a new partnership.
RWE Renewables has teamed up with the Offshore Renewable Energy (ORE) Catapult to conduct a report analysing what is needed to deliver an increase in the level of local content.
It's thought the manufacture of concrete foundations could have the "biggest supply chain benefit" for Scottish firms.
Despite Scotland's rich engineering history developing structures for the oil and gas industry, it is yet to transfer over to renewables, leading to concerns that the economic benefits of the energy transition could be missed.
RWE said that the development of concrete structures offers the supply chain chance to build on its offshore legacy.
According to the German-headquartered firm, one concrete foundation for a 15 megawatt (MW) floating turbine would have a mass in excess of 10,000 tonnes, while a 500MW project would need around 33.
To date RWE has been involved in three floating wind demonstration projects in Norway, Spain and the US, two of which use concrete foundations that could also be suitable for ScotWind sites.
A proportion of acreage which is to be allocated as part of the leasing process is expected to be reserved for floating developments.
The study will be carried out by the ORE Catapult's Floating Offshore Wind Centre of Excellence (FOW CoE) to understand the scale of this potential and how it might be unlocked.
It will be fully funded by RWE, with a summary of the project expected to be published upon its completion later this year.
Ralph Torr, ORE Catapult's FOW CoE programme manager, said: "This report will identify key manufacturing and fabrication methodologies and constituent materials required to produce concrete substructures. It will also assess the existing Scottish supply chain capability and capacity to deliver such concrete substructures into a utility scale floating offshore wind project.
"Floating wind will be required to exploit a significant proportion of the deeper Scottish waters identified by Marine Scotland's latest Offshore Wind Sector Marine Plan, and hence play a key role in Scotland achieving its Net Zero target by 2045."
Alongside its three floating wind demonstration projects, RWE said it is "actively seeking" new offshore wind opportunities off the coast of Scotland to complement its success in the Crown Estate Round 4 Leasing Round.
The company is a founder member of the Carbon Trust's Floating Wind Joint Industry Project and member of ORE Catapult's Floating Wind Centre of Excellence.
Chris Willow, head of floating wind for RWE Renewables, said: "Floating wind could play an important part of the growth in offshore wind and has the potential to unlock new offshore wind markets around the world.
"RWE is progressing innovation in this growing sector as one of the world's leading renewable companies. Concrete floating foundations have the potential to support Scottish projects and create local supply chain content, building on the country's engineering legacy for a new generation of Scottish engineers.
"Achieving this will require collaboration between offshore wind developers like RWE, the Scottish Government and Scottish industry, which is why RWE has partnered with the ORE Catapult to investigate this important topic."
Recommended for you

China offshore wind offers niche opportunities for Scottish players