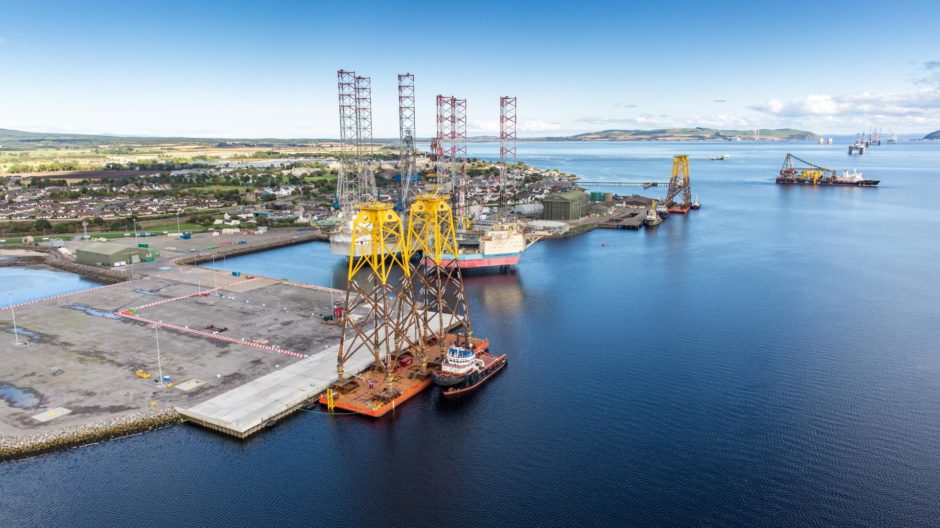 The Highlands is poised to benefit from a "renewable energy gold rush" in the coming decades as the energy transition takes flight.
Joanne Allday, strategic business development manager at Port of Cromarty Firth, said there is a 50 year pipeline of multi-billion pound offshore wind developments right on the site's doorstep.
She described the region as being akin to Aberdeen in the early 1970s prior to the North Sea oil and gas boom.
Hundreds of wind turbines are due to be installed around the coast of Scotland in the coming decades as efforts to reduce emissions to net zero by 2050 ramp up.
Moray East offshore wind farm is currently under construction in the outer Moray Firth – the 100-turbine development is due to become operational in 2022.
Meanwhile, first power from SSE Renewables' mammoth Seagreen development off the Angus coast is expected in 2022/23.
Port of Nigg, also in the Cromarty Firth, recently secured a landmark deal to act as a marshalling, storage and logistics base for the project.
Other net zero technologies, such as floating offshore wind and carbon capture and storage, are also being trialled in the north-east of Scotland.
Ms Allday said: "We are in the heart of the offshore wind development region identified in the Marine Plan and the ScotWind leasing sites.
"We're looking at a 50 year pipeline of multi-billion pound offshore wind construction projects right on our doorstep.
"If you imagine Aberdeen in the 1970s before the oil and gas rush, that is the Cromarty Firth right now but ahead of a renewable energy gold rush instead.
"Port of Cromarty Firth has the best facilities for accommodating the large work scopes to build these projects out. We've got proven facilities, the track record, we've supported more offshore wind projects than any other port in Scotland and we have the expertise."
However, it isn't all rosy for the Highlands port, with "major" grid constraints in the region causing a "bit of a hiccup".
According to Ms Allday, the scale of renewable energy being produced in the region means "there are more people putting into the grid than taking out", upping the costs for developers.
In order to get around these challenges, Port of Cromarty Firth has been exploring the potential for producing hydrogen.
Plans to establish a "world-leading" green hydrogen hub at the facility were tabled in March with support from ScottishPower and whisky giants Glenmorangie, Whyte & Mackay and Diageo.
The carbon free fuel has "major export potential", particularly in Northern Europe, as well as dozens of domestic uses.
Ms Allday said: "We found a number of industries that were already in a position to be taking hydrogen, some from as early as 2022/23.
"In fact, we were faced with a challenge of some sectors wanting hydrogen ahead of the ScotWind developments becoming operational.
"We had to try and find a way to match the two and there's a couple of options that we're already looking at".