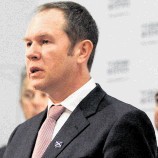 The Queen's property manager said yesterday it was considering investing up to £20million in two tidal and wave-energy schemes to attract other investors.
It comes after a report last year concluded there was potential for tens of gigawatts of wave and tidal projects around the UK.
The Crown Estate, which manages a diverse property portfolio on behalf of the monarchy, wants marine-energy developers to apply for investment by February 15.
UK Government subsidies for marine-energy projects will more than double from April 1 to help kick-start the sector
Development costs remain high but the government estimates marine-energy contributes more than 10% of Britain's electricity needs by 2050.
Crown Estate energy and infrastructure portfolio director Rob Hastings said: "By bringing our capital and expertise to bear, we hope to catalyse investments by others and to see projects proceed to construction and operation as soon as possible."
To be eligible for investment, projects must already have a Crown Estate lease agreement.
They must also have or be close to getting statutory consents and grid-connection agreements.
Final decisions on investments are expected to be made by March 2014. The Crown Estate also awards leasing rights for areas off the UK coast for renewable-energy projects and has previously invested up to £100million in the early stages of offshore windfarm development.
A spokeswoman said a strict separation of duties within the agency ensured there was no conflict of interest between leasing and investment.
Nick Medic, offshore renewables director at industry body RenewableUK said the potential investment was a boost for the wave and tidal industry at a key moment.
He added: "The funding will accelerate a crucial step forward from successful individual devices to the deployment of full-scale arrays in the water.
"It will also help to attract the right level of private investment to commercialise the sector."
Recommended for you

All 17 ScotWind winners green lit to move into development stage