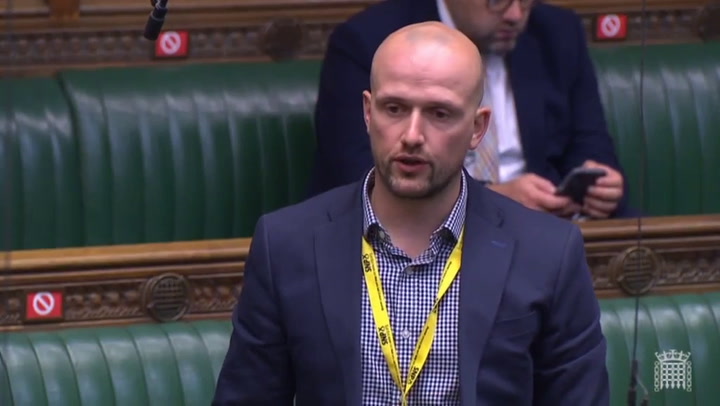 The Secretary of State for Scotland is being urged to put pressure on his colleagues in Westminster to remove the premium faced by renewables developments north of the border.
Stephen Flynn, SNP MP for Aberdeen South, has called on Alastair Jack to provide assurances he will act to overhaul the transmission charging scheme, which means Scottish projects face additional costs to supply energy to the grid.
Mr Flynn described the current system as a "flagrant injustice" that "clearly discriminates" against Scotland, putting it at a "competitive disadvantage".
In a separate letter to Ofgem, he asked the energy regulator to outline what changes it is planning to make in order to "level the playing field".
Mr Flynn has previously flagged the issue with Anne-Marie Trevelyan, Westminster's energy minister.
Under the current transmission charging system, developments which are further away from areas of high demand face additional costs as the energy has to travel further.
Consequently, the Beatrice Offshore Wind Farm in the Moray Firth has to pay £4.50 per megawatt hour (MWh) to feed power into the grid, while the Greater Gabbard development off the East Anglia coast receives £1.09 per MWh.
Onshore wind developments and combined cycle gas turbine plants face similar costs.
In his letter to Mr Jack, Mr Flynn said: "The current transmission charging regime is constantly cited by those in the industry as a barrier to even greater renewable energy expansion and it raises serious questions as to the viability of the grid's current structure as we move towards a net-zero future.
I have raised this matter directly with the Minister on a number of occasions yet your government remains committed to this blatant unfairness which clearly discriminates against Scottish renewables companies."
He continued: "As the Secretary of State for Scotland, you must bear whatever influence you can to change this system of charging which is long since out of date and reflects neither the need for new technologies as part of the drive towards net-zero, nor the wider economic benefits which development can bring.
"I urge you to press your colleagues in government on this issue so that no unnecessary barriers stand in the way of Scotland's potential to lead Europe in the renewables field.
"Please provide assurances that you will take action to address this flagrant injustice in the current system of transmission charging."
A spokeswoman for the Office of the Secretary of State for Scotland said that transmission charging is a matter for Ofgem.
The watchdog is currently hashing out a package of reforms, part of which is intended to facilitate decarbonisation at a lower cost to consumers.
Ofgem previously said the changes would "provide an incentive" for the "most efficient" use of the  energy network, rewarding those that "add more value" to the system.
In his letter to the regulator, Mr Flynn said: "I would be grateful if you could outline what changes Ofgem will implement to level this playing field and when you expect such actions to be implemented.
"I am sure you will agree that the current grid charging regime should not be a barrier to renewables development in Scotland. I would welcome your consideration of this issue and I look forward to hearing from you in due course."
Ofgem was contacted for comment.
Recommended for you

Eastern Green Link 2: Hitachi wins work on major Scotland-England grid link