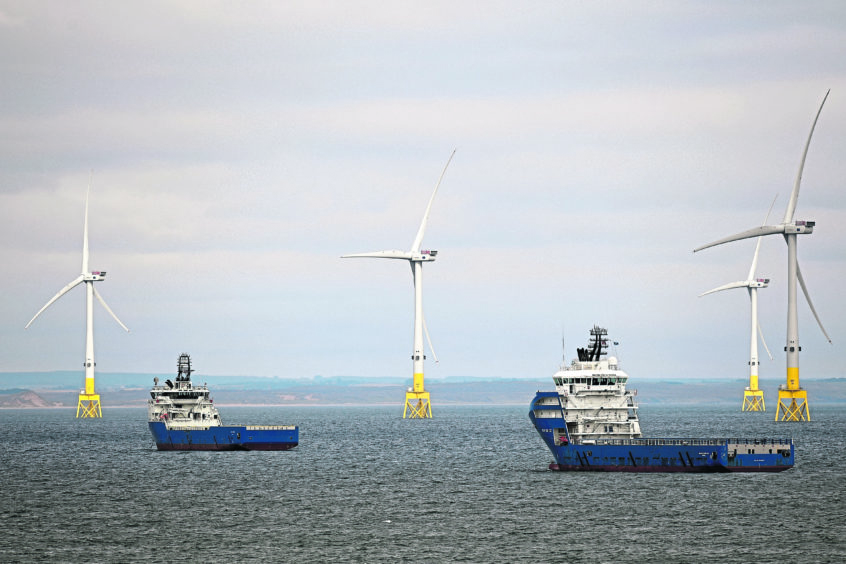 More than a dozen north-east businesses have been selected to take part in an initiative designed to help firms capitalise on Scotland's offshore wind expansion.
The Fit 4 Offshore Renewables (F4OR) North East Scotland programme, which is run by the Offshore Renewable Energy (ORE) Catapult, aims to support the regional energy supply chain to make a move into offshore renewables.
Delivered in partnership with Opportunity North East (ONE), it is also intended to stimulate supply chain mobility and transition during the planned green economic recovery.
The latest regional F4OR programme received 58 expressions of interest, with 16 north-east companies chosen to take part.
The yearlong business improvement and supply chain growth programme will prepare the cohort to compete for contracts at UK offshore wind farms by making them more attractive to project developers.
As per the terms of the ongoing ScotWind leasing round, at bid stage developers have to commit to 25% local content in their projects, up from 10% originally.
ORE Catapult said the revised targets makes it "more vital than ever" to build up the "skills, capability and experience of the regional supply chain" to deliver UK content to offshore wind projects.
A further 12 firms were selected to take part in the F4OR North East England cohort.
Andrew Stormonth-Darling, ORE Catapult's F4OR programme manager, said: "The UK's offshore wind sector is on a sharp growth trajectory as we aim to meet UK Government targets of 40 GW by 2030, and at least 75 GW by 2050 to achieve Net Zero. This translates to a huge opportunity for the UK supply chain to grab a significant slice of this market, both in terms of the operations and maintenance of these future wind farms and in manufacturing, creating jobs and economic benefit for the UK.
"With a strong UK content requirement built into the recently announced ScotWind leasing round, it's now more important than ever to support our indigenous supply chain to win contracts with the new generation of UK offshore windfarm developments."
The F4OR business improvement programme was developed with input from the offshore renewables industry and based on the successful Fit 4 Nuclear Programme.
When it was launched earlier this year, ORE Catapult said it could lead to an increase in employment in offshore renewables in the north-east, as well as increased revenues for the companies involved.
The programme will go some way to alleviating concerns that Scottish firms could miss out on the economic benefits of offshore projects on their doorstep.
Andy Rodden, energy transition programme director – offshore renewables, Opportunity North East said: "The positive response to the programme shows the ambition and enthusiasm from the supply chain to embrace the massive opportunity presented by offshore wind.
"The Energy Transition Zone in Aberdeen, which has received significant backing from both governments, is a strong vote of confidence in the region's proven ability and unique position to  accelerate the delivery of net zero and play a key role in the green economic recovery.  Key activities to be developed are likely to include offshore wind high value manufacturing and marshalling and assembly and a floating offshore wind centre of excellence.
"With the ETZ as focal point for energy transition activities and manufacturing presence, the F4OR programme will ensure ambitious north east businesses are ready to tender and work closely with offshore renewable developers to develop solutions and make the region a frontrunner in offshore renewables."
Recommended for you

Rovco completes survey work for Cenos floating offshore wind farm