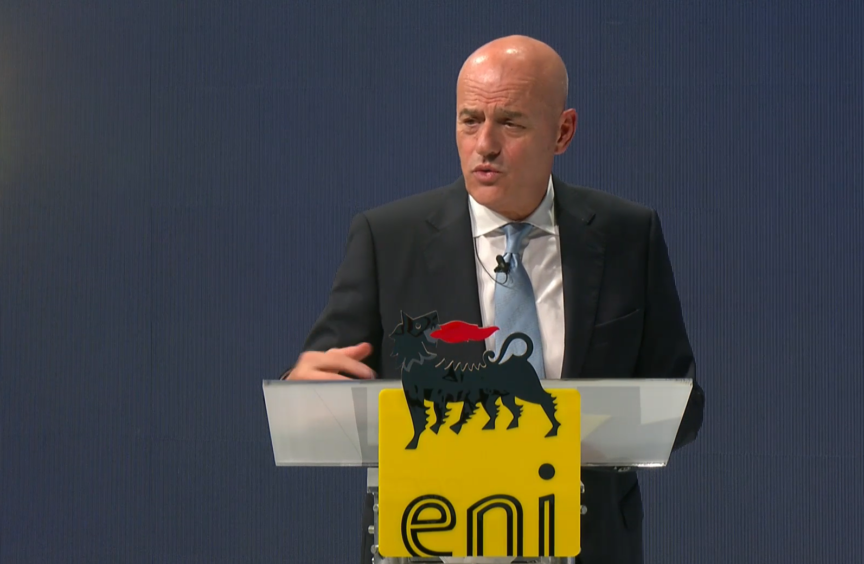 Eni has swung back to profits in Q1 as commodity prices improved, and announced plans for an IPO or stake sale in a new renewables unit.
The Italian operator reported pre-tax profits of £1.4billion, reversing a deficit of £1.99bn in the same period last year, despite being "significantly impacted" by ongoing national lockdowns.
A "strengthened upstream environment" with Brent crude oil up some 21% from the corresponding quarter in 2020 bolstered Eni's performance, describing the recovery on a year ago as "remarkable".
Eni also pointed to improved performance in its chemicals and retails business segments.
Revenues reached £12.9bn, up 8% from £11.9bn in Q1 2020, while adjusted net profit more than quadrupled from £51m to £235m.
Production was down 4% on Q1 2020 to 1.7m boe per day, which Eni expects to average for the year, assuming certain OPEC cuts
Outlook for 2021 maintains risks around commodity prices from the ongoing impact of Covid, but Eni's top boss remained optimistic.
CEO Claudio Descalzi said: "With the pandemic situation gradually improving, and a broadening economic recovery looking more likely, we have been able to improve our outlook for the coming months, forecasting free cash flow generation in 2021 of more than €3 billion under a Brent scenario of 60 $/bbl.
"In this environment, we will continue implementing our decarbonisation and energy transition strategy, maintaining a strong focus on the robustness of the balance sheet and targeting a competitive distribution policy to our shareholders."
New renewables unit
Meanwhile Eni announced plans for a stake sale or initial public offering of a new unit, formed by the "union" of its retail and its renewable energy activities.
The business will be focussed on delivering 5GW of capacity by 2025, offered to Eni's customer base which is expected to reach 11million by that time.
EBITDa is expected to grow from 600m Euros in 2021 to more than 1bn Euros in 2025, Eni said.
Chairman Lucia Calvosa approved the launch of a new project ot fully define the values and plans for the new entity, including how to "extrapolate maximum value" from it through a partial sale of IPO.
The project forms part of its plans to become a carbon neutral company by 2050.
Recommended for you

Report: Eni exploring £5bn deal for North Sea firm Neptune Energy