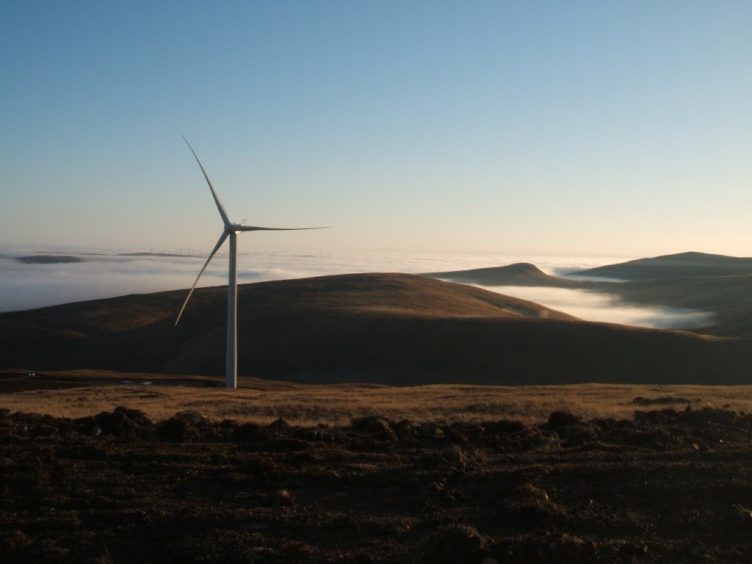 A leading trade body is calling on governments across the UK to commit to specific renewables deployment targets ahead of a landmark climate conference later this year.
In a report published on Friday, RenewableUK stressed the need for fixed goals for onshore wind, floating wind, renewable hydrogen and marine energy.
It claims the targets should be introduced in the run-up to Glasgow hosting the United Nation's COP26 climate summit in November.
In 'Raising the bar: the world-leading energy commitments the UK should make ahead of COP26', RenewableUK argues that the Prime Minister's target to slash emissions by 78% by 2035, and reaching net zero by 2050, can only be achieved by setting out clear milestones to be met by 2030.
It also details economic opportunities that are "yet to be grasped" in renewable energy development.
We're asking Government to set new #renewables targets ahead of #COP26. Clarifying clean energy ambitions ahead of the climate conference will boost investor confidence & jobs in the UK & encourage other nations to set & increase their own #climate goals. https://t.co/FVTzKiLD7A pic.twitter.com/ZB4qp80k1C

— RenewableUK (@RenewableUK) May 7, 2021
Onshore Wind
The report's recommendations include reaching 30 gigawatts (GW) of onshore wind across the UK by the end of the decade – enough to power over 19.5 million homes.
The trade body described onshore wind as being "critical" to decarbonisation, both at home and abroad.
It also highlights that, as the cheapest form of new power generation, it could help to drive down energy bills and support 31,000 UK jobs by 2035.
The majority of new onshore wind sites will be located in Scotland and Wales, meaning the new governments in both countries need to "set an example to the world" by outlining "complimentary" targets, RenewableUK said.
As well as building new projects, the report highlights the need for policies which enable developers to make the most of the wind farms already in operation by "repowering" older turbines with state-of the-art technology.
Floating Wind
As part of its 10 Point Plan, released last year, the UK Government set a target of 1 GW of floating offshore wind by 2030.
But RenewableUK claims the industry wants to double this goal within that timeframe to capitalise on its "global lead".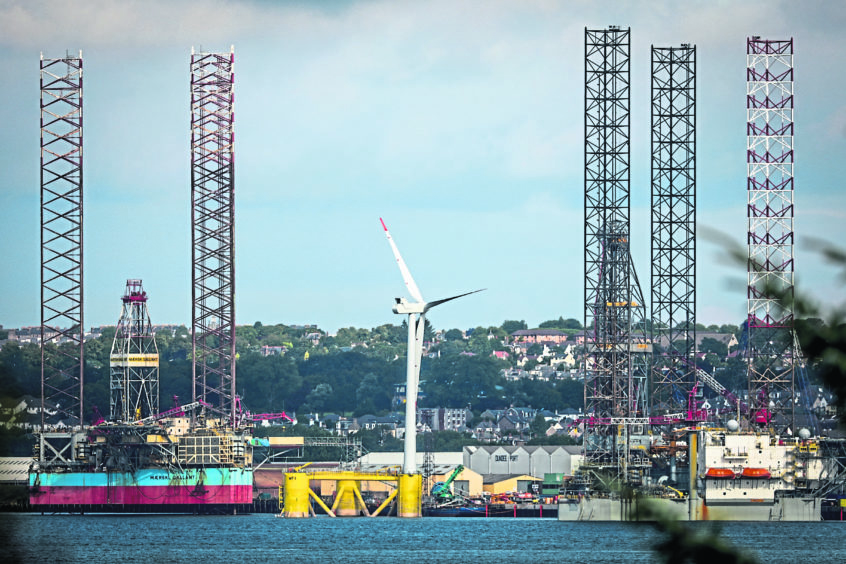 The fledgling technology allows developers to install turbines further out to sea where they can benefit from windier conditions.
They will also become increasingly important as the UK's capacity for fixed bottom developments – that need to be situated in shallower waters – begins to fill up.
RenewableUK said large scale deployment is needed to bring down the cost of the technology so that it may be deployed in countries with deep waters, such as Japan, South Africa, and Brazil.
Renewable Hydrogen
Despite noting that the UK already has a "head start" in the race to scale up hydrogen, the report urges ministers to set a minimum target of 5GW of green hydrogen electrolyser capacity by 2030.
It claims this will help to provide clean fuel for sectors which have proved difficult to decarbonise, such as shipping and heat for heavy industry.
The report also notes its importance to the wider grid as a vessel for storing excess energy produced by offshore wind.
Marine Energy
Marine energy, which includes tidal stream and wave power, is the fourth pillar of RenewableUK's report.
The trade body calls for a 1 GW minimum target to be set to maintain the UK's position as a global leader.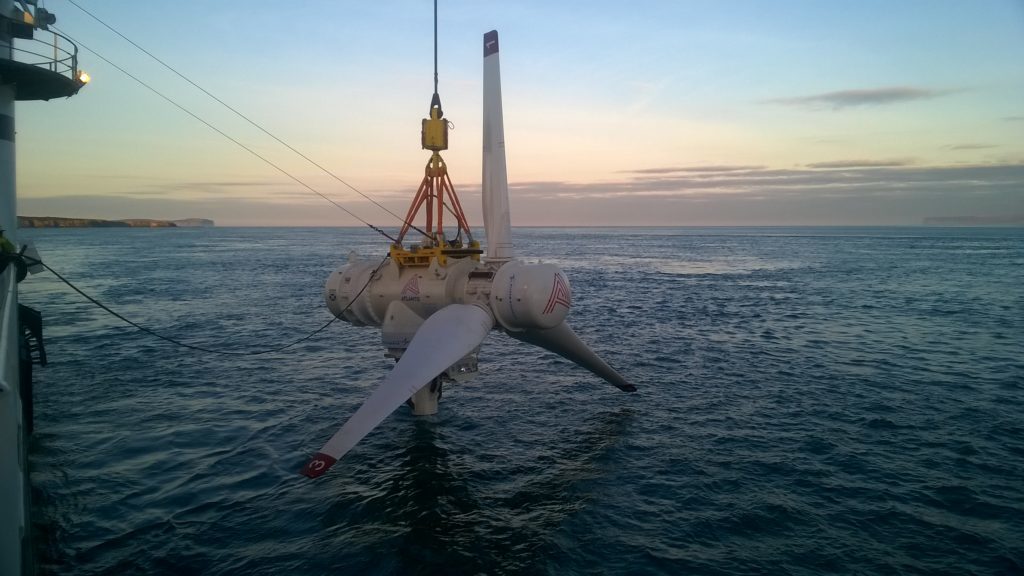 Simec Atlantis' MeyGen tidal array, which is currently being built in stages off the North coast of Scotland in the Pentland Firth, is due to be the world's largest upon completion.
RenewableUK claims that, according to studies, once marine energy passes the 1 GW threshold, the cost of the technology will fall to the level of other mainstream forms of low carbon generation such as nuclear power.
It's hoped that by creating a new cost-competitive system, it could be used by countries around the world to support net zero goals, creating thousands of UK jobs.
Just Transition Strategy
In addition to its technology targets, RenewableUK has stressed the need for ministers to work with industry to maximise the number of apprenticeships and retraining opportunities in the sector.
It calls for a new 'Just Transition Strategy' to be set up, built on investment by industry and government funding.
The body could then work to ensure the energy transition is "inclusive" and offers up "fresh opportunities" throughout the country, especially in areas in need of "levelling up".
Nathan Bennet, RenewableUK's head of public affairs and the report's author, said: "The UK has one of the strongest records on decarbonisation in the world. But to get to net zero emissions as fast as possible and ensure we're maximising jobs and investment, the Government needs to set out a detailed roadmap with specific milestones for the key renewable technologies which will get us there – starting with targets for 2030. We must ensure there are no gaps in our own ambitions if we're to set the agenda for the rest of the world.
"Over-arching commitments to decarbonise by 2035 and 2050 are a great starting point, but there is so much to be gained by fleshing out comprehensive plans for renewable development which will underpin this. Ministers have already told us they want to see 40 gigawatts of offshore wind built by the end of this decade – now they need to show countries around the world we're as committed to onshore wind, floating wind, renewable hydrogen and marine energy as we'd like them to be.
"By enhancing our renewable energy targets, the UK doesn't just show effective leadership on tackling climate change – we will also drive new investment and jobs in the renewable energy supply chain across the UK. We're in a position to be a world-leader in technologies like floating wind, green hydrogen and marine energy, grasping the export potential of each industry's inevitable global growth".
A UK Government spokesperson said: "The UK is leading the world in tackling climate change and we take our role hosting COP26 very seriously. The UK was the first major economy to legislate to eliminate our contribution to climate change by 2050 and last month the Government committed to reduce emissions in 2035 by at least 78% compared to 1990 levels – the highest reduction target by a major economy to date.
"Renewables are key to this effort. We already have a world leading offshore wind target of 40GW by 2030, including 1GW of floating wind and we will make a significant step towards reducing power sector emissions through this year's Contracts for Difference auction, aiming to be the largest the UK has ever held"
Recommended for you

Three more renewable energy firms add voices to Cromarty green freeport bid