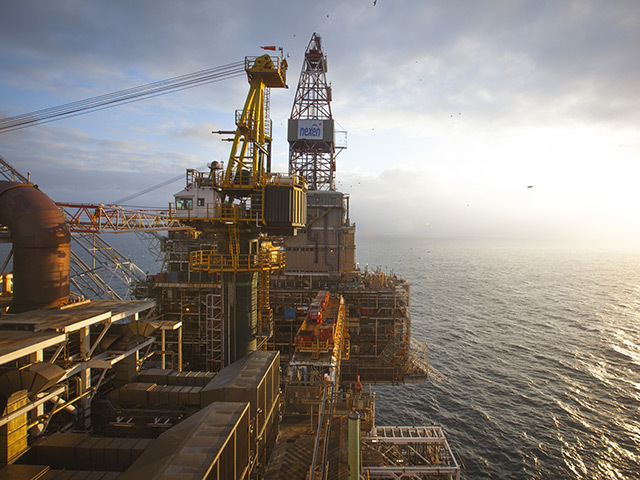 CNOOC has teased plans to electrify its North Sea platforms through floating wind and "build a new energy business" in the UK.
Vice president of developments, Craig Paveley, spoke at the EIC North Sea Decarbonisation Conference on Wednesday, discussing the opportunity to slash emissions in the region.
CNOOC's Buzzard, Golden Eagle and Scott platforms produce around 10% of UK oil and gas supply, but they also emit about 900,000 tonnes of carbon dioxide per year, the rough equivalent to 5% of UK homes.
Spelling out the opportunity, he said electrification from renewable power could cut out around 70% of these emissions, which currently come from gas turbines to generate electricity on board.
Mr Paveley said:  "Our biggest opportunity for greenhouse gas reduction is through electrification.
"So we have (a) specific project working on a floating wind farm, and that is not only to decarbonise our assets but it is also to go at larger scale to build a new energy business for CNOOC in the UK.
"We also have been very active with the OGUK team on the North Sea Transition Deal and its early focus is going to be on electrification."
Floating wind is a burgeoning business in the North Sea, but Hywind Scotland off Peterhead is the only one that is currently operational.
Kincardine, off the coast of Aberdeen, is generating power from one turbine but the broader project is still under construction, as is Hywind Tampen off Norway which will be used to electrify Equinor platforms.
The OGA, Wood and others were also on the panel, discussing wider ambitions for electrification across the Moray Firth and Central North Sea.
Quiet as he was on details for the CNOOC project, Mr Paveley said, for the entire UK sector, the government's targets on net zero has had a galvanising effect.
He also said that CNOOC will draw upon the experience of One-Dyas, a partner on the Buzzard and Golden Eagle projects, on electrification in the Netherlands.
"We have now seen such a large move from the government in the UK in setting net zero targets that it has woken us up. So of course we can talk technically with other regulators and other businesses. We've partnered with One-Dyas who have just announced electrification of their Netherlands (assets) from renewables in Germany. So of course we'll be talking to them about how all of that came about.
"We have now been compelled to do something and that is why my comment is we need to embrace this as a new business opportunity, not a compliance issue and then we'll start learning. But I think other countries have got to that place already."
Recommended for you

UK Government bank will consider buying stakes in floating wind ports