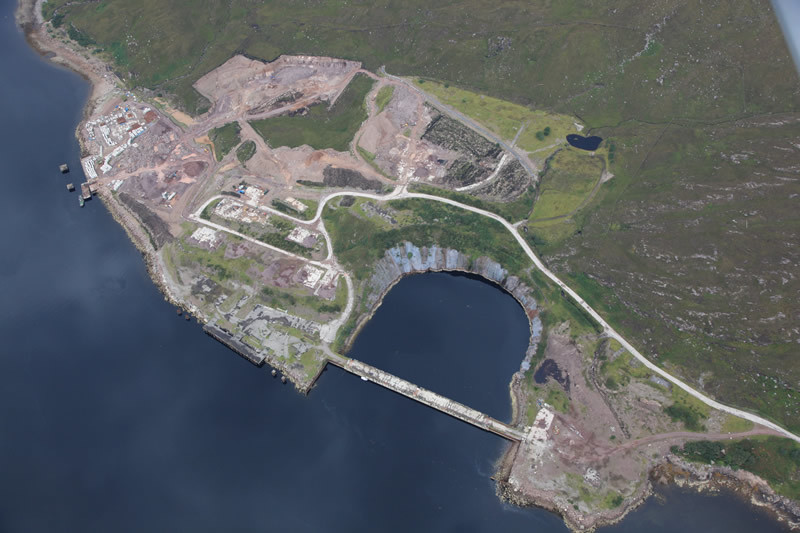 Plans to breathe new life into a disused Highland fabrication yard could create more than 2,000 jobs, a site boss said yesterday.
The companies behind Kishorn Port said up to 2,500 people could be employed at the site, building concrete structures for offshore energy projects.
The yard, which has been out of use for nearly 25 years, could be redeveloped and upgraded to serve the wind, marine and oil and gas sectors.
A masterplan for Kishorn Port – run by quarry product and construction material firm Leiths and transport and logistics firm Ferguson Transport – will be submitted to Highland Council for approval later this year.
The application will be to redevelop around 100 acres of land, including the dry dock.
Kishorn Port director Simon Russell said discussions had already started with potential tenants, adding that Trident Energy had already confirmed it would lease part of the site for sea trials of a prototype wavepower generator. He said: "The former owners of Kishorn went bust in 1988, and since then this huge facility has been waiting for something to do. We believe the offshore renewables industry affords an opportunity to regenerate the yard."
Mr Russell said if a fabrication company moved into Kishorn, up to 100 concrete structures could be built every year by up to 2,500 people. He said the masterplan would be discussed at a public open day at Lochcarron Village Hall today, adding that local residents had been supportive of the plans.
He said: "Jobs are at a premium in this part of the Highlands. There is still a generation of people living in the area who remember Kishorn at its peak and want to see young people back working there on apprenticeship or trainee schemes." At its height, the original yard and dry dock employed more than 5,000 people in building oil platforms in the 1970s. Last month, Kishorn was one of four ports which signed a deal with Highlands and Islands Enterprise (HIE) aimed at attracting investment of £100million and securing fabrication contracts.
The memorandum of understanding between HIE and the port operators, which also include Global Energy Nigg, Port of Ardersier and Cromarty Firth Port Authority, means the business agency will provide help with marketing the sites and winning planning permission.
There is still a generation of people living in the area who remember Kishorn at its peak
Recommended for you

Exclusive: End of 12-year 'eyesore' on Cromarty Firth as Hutton legs removed