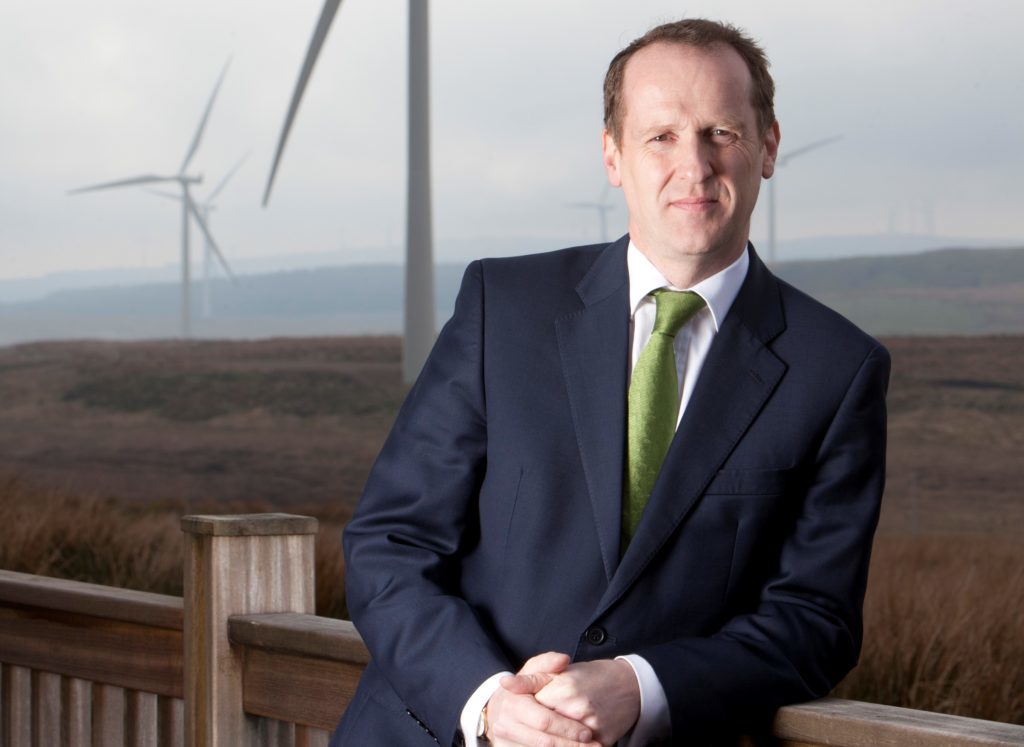 ScottishPower's boss said today that Aberdeen University can play a "leading role" in answering the big questions surrounding the transition to a green economy.
Keith Anderson, ScottishPower chief executive, said the university's Centre for Energy Transition (CET) had been launched at the "right time", as society faces the "colossal" task of getting to net-zero.
Mr Anderson said all sectors need to be involved and that beating people in the oil and gas industry "over the head with a baseball bat and telling them they are bad" would not help.
He was speaking at the official launch event for the research centre, whose mission is to "bring the power of interdisciplinary research to bear" on the climate crisis.
Professor George Boyne, university vice principal and chancellor, said the centre would "think deeply and act quickly" to support the transition.
CET director Tavis Potts described it as an "honest broker", bringing together different disciplines and partners to realise the net-zero vision.
ScottishPower's Mr Anderson said he viewed the energy transition more as a "revolution", given the pace at which decarbonisation activity is going to have to speed up.
Mr Anderson said Scotland and the UK needed to know how to deliver reliable renewable energy systems at scale, maximise the economic benefits and ensure communities are not left behind.
He said: "The Centre for Energy Transition (CET) has a leading role in answering big questions.
"It's a brilliant time to be doing that, with a mix of technical research, engineering innovation, economic modelling and a massive dose of sociology thrown over the top. I could not think of a better way to go about it."
Mr Anderson also said governments and organisations had to move on from "big, high-level ambitious statements" to focus on delivery.
He said he didn't need another economic report, he wants to see "delivery plans".
Building and upgrading port infrastructure so that it can support large green energy projects will be vital, he said.
"If you get the right port facilities, then investment will flood towards them," Mr Anderson said. "Time is of the essence. We're focused on our own communities, but this is a massive international game we're in middle of and a colossal competition.
"The money will flow to where work is going to happen fastest. We've got the best wind resources in Europe, but we don't have the biggest wind industry. Why? It's to do with pace. It's the same with hydrogen. We've got best conditions and we could win that race if we get the pace correct. In the UK we don't move fast enough."
Mr Anderson called for regulatory processes to be devolved to give local communities more involvement in the energy transition.
"Targets are centralised but delivery of decarbonisation is a community activity," he said, adding: "There's no point having me in Glasgow talking to Ofgem in London, trying to dictate how electric vehicle charging should be spread out across the Grampian region. That's just completely bonkers."
Alison Stuart, of the Aberdeen Climate Action campaign group, said community participation in decision making processes was "crucial", but largely overlooked, at present.
The audience of the virtual event also heard from Jean-Luc Guiziou, managing director French giant TotalEngeries' North Sea business.
Mr Guiziou accepted oil and gas companies needed to do "everything they can" to lower emissions from their operations.
Earlier today, TotalEnergies, the new name for Total, announced that it would provide £240,000 to support research and teaching in the university's School of Engineering in areas like hydrogen, biomass, solar and wind energy and carbon capture.
Anne-Marie Trevelyan, UK Minister for Business, Energy and Clean Growth, predicted Aberdeen and the oil and gas sector would play critical roles in the energy transition.
Private-equity backed Neptune Energy said after the event that it was keen to explore opportunities to work with the CET.
Neptune's new energy team is focusing on scaling partnerships and investments in low carbon technologies, particularly hydrogen, carbon capture and electrification.
Pierre Girard, Neptune's director of new energy, said: "For nearly half a century, Aberdeen has been the home of innovation for the energy industry, pioneering new technologies and approaches and developing the next and future generations of explorers, inventors and engineers.
"The university's new CET will support this, as well as offering exciting opportunities for further potential collaboration between industry and academia, including hydrogen, and CCS projects which Neptune Energy is developing in the UK and Dutch sectors of the North Sea."
Recommended for you

Woodside taps former TotalEnergies E&P boss in board reshuffle