Activists blocked the entrance to Peterhead Power Station this morning in a protest against site operator SSE's sponsorship of the COP26 summit.
About 20 demonstrators from Extinction Rebellion Scotland and Glasgow Calls Out Polluters turned up outside the power station at around 6am this morning.
The facility was ranked as the worst industrial air polluter in the country by the Scottish Environment Protection Agency (Sepa) in March 2020, using statistics from 2018.
Bosses said the Beast from the East storm had increased demand, causing the rise in emissions.
However, activists say SSE's sponsorship of COP26, which comes to Glasgow in November, amounts to "greenwashing".
SSE said climate action was "at its core", while Scottish Conservative Shadow Cabinet Secretary for Net Zero, Energy and Transport, and north-east MSP, Liam Kerr said unlawful protests wouldn't solve climate change.
Video footage published on social media shows a small number of cars at the entrance with police in attendance.
#LIVESTREAM of the Action outside @SSE Peterhead:
💀🔥Clean Gas Is A Dirty Lie!!🔥💀https://t.co/7l7vdTcepx

— Extinction Rebellion Scotland 🌍 (@ScotlandXr) June 3, 2021
The protestors brought with them a washing machine painted green to make their point.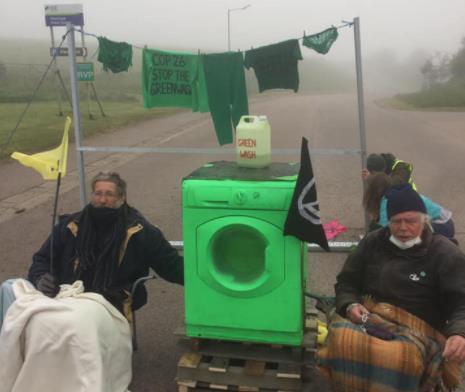 They have a banner saying "Clean Gas is a Dirty Lie" and have hung green clothes on a washing line, which carry slogans like "COP26: Stop the Greenwash" and "Climate Inaction Kills".
Later, a choir of singers will join the protest, performing tunes such as "This Planet's All We Got" and "I'm Gonna Sing for This World".
Cathel Hutchison from Glasgow Calls Out Polluters said: "By sponsoring COP26 in Glasgow, SSE want you to think they are leading the charge into a renewable future.
"SSE are not fit to be given a platform at COP26. That is why we support our friends at XR Scotland to call out SSE as the climate wreckers they truly are."
Stuart Bretherton, 23, support worker and XR Scotland activist said: "Despite the UK Government's rhetoric on new green jobs, companies like SSE continue to exploit cheap overseas labour.
"The government needs to ramp up the pressure on companies like SSE to end fossil fuel extraction and deliver a just transition for the sake of the local workforce."
Last month, SSE and Norwegian energy giant Equinor announced plans for a carbon capture and storage plant at Peterhead Power Station.
A spokesman for SSE said: "As the UK's leading generator of renewable energy, climate action is at the core of SSE's business.
"We've set clear carbon reduction targets, aligned with the Paris Agreement and verified by the Science Based Target initiative.
"As Scotland's only major thermal power station, Peterhead Power Station provides critical flexibility to the electricity system, supporting intermittent renewable generation and maintaining security of supply.
"We're currently developing plans for a new decarbonised power station at Peterhead, using carbon capture and storage (CCS) technology to remove CO2 from its emissions.
"This project could play a major role in supporting wider industrial decarbonisation in Scotland, helping to ensure a just transition for workers and communities."
Mr Kerr said: "Peterhead Power Station is at the heart of a pioneering carbon capture and storage project which will propel the UK's net zero ambitions.
"Around 1,000 jobs would be supported by this in its construction phase while creating scores of more long-term skilled positions for the north-east.
"Climate change will be solved by practical actions not unlawful protests which harm and cause unrest in the area.
"The issue around carbon footprint is something we must all work together on but having people chained to washing machines and gas cannisters at Peterhead Power Station is not the answer.
"Everyone including SSE has a role to play but these kinds of irresponsible protests are not representative of the way people want to influence change."
Banff and Buchan MP David Duguid said: "The UK Government is fully committed to reducing net carbon emissions and the Scottish Government have made similar commitments. In fact, the UK was the first major economy to put such commitments into law.
"The whole energy sector in Scotland is also committed to contributing to net zero – as demonstrated by the recent North Sea Transition Deal agreed between the UK Government and OGUK.
"I met operators SSE recently to discuss their ambitious plans for a new low-carbon Power Station at Peterhead, which will tie in with Carbon Capture and Storage plans at St Fergus.
"Groups such as these, as well as the Scottish Greens, not content with Government 'net zero' targets, appear to be campaigning for absolute zero emissions which is not realistic, practical or in line with UK or Scottish Government policy.
"This act by protestors is short-sighted, ill-informed and does not do justice to the huge efforts already being made by Governments and industry."