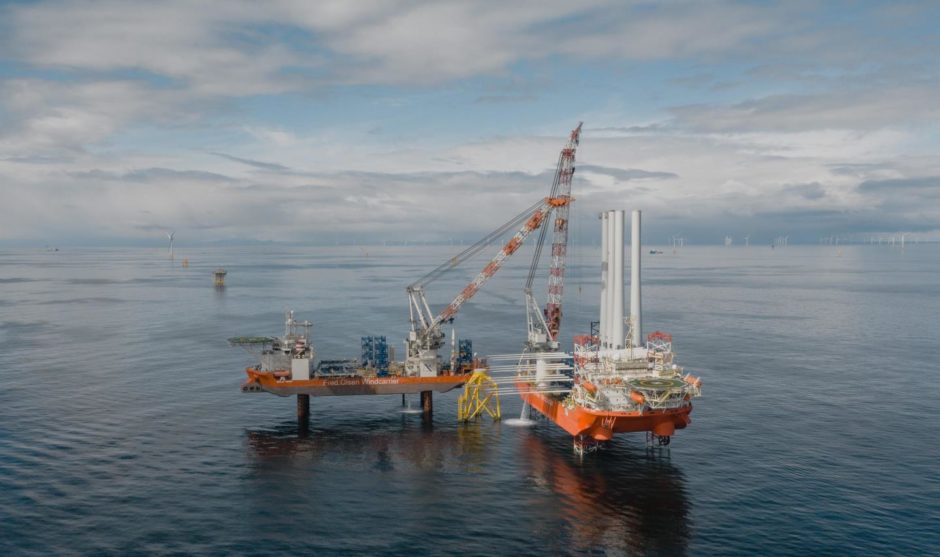 Developers behind a North Sea wind farm are celebrating a major milestone after it exported green electricity to the grid for the first time.
And Ocean Winds has promised there is "much more to come" from the Moray East offshore wind farm, which is located off the north-east coast of Scotland.
The project generated first power on Friday, with the green energy being fed into the national grid via the project's substation south of New Deer, Aberdeenshire.
Ocean Winds, a 50-50 joint venture between Spain's EDP Renewables (EDPR) and France's ENGIE, won the right to develop renewables in the Moray Firth in 2009, as part of the UK's 3rd round of offshore wind leasing.
The sea-bed made available by the Crown Estate was split into two sections – Moray East and Moray West – to allow for the development of the former, which had fewer constraints.
Due to be completed later this year, Moray East will consist of 100 turbines and will have a generating capacity of 950 megawatts.
Turbines for the project are currently being assembled in the Highlands at Global Energy Group's Port of Nigg.
When complete, Moray East will briefly become Scotland's largest offshore wind farm before Seagreen, which is under construction off Angus, takes over the title.
Spyros Martinis, CEO of Ocean Winds, said: "After a decade of work and co-operation with communities and businesses across the North East of Scotland, first generation is a proud and welcome achievement for all involved and represent one more step of Scotland's energy transition path.
"But, it's just the start from the first few turbines from our first project, there is much more to come."
Grzegorz Gorski, COO of Ocean Winds, added: "Our mission is to lead the offshore wind into one of the main energy sources by delivering more efficient and sustainable wind energy solutions around the world and Morey East is a clear example of the success and innovation in this arena."
Ocean Winds is planning a further expansion in the Moray Firth with its Moray West development, which secured planning consent in 2019.
The project is currently awaiting a Contract for Difference (CfD) from the UK Government in order to kick start construction.
Offshore wind is expected to ramp up in the coming years with the ScotWind leasing process due to wrap up next month.
Under the scheme, the first of its kind in a decade, prospective renewables developers will be able to bid for areas of seabed around Scotland's coastline.
Dan Finch, managing director of Ocean Winds, said: "Ocean Winds has a long term commitment to the Moray Firth. We have knowledge and expertise not just of our industry, but of the Moray Firth and the diverse communities, industries and enterprises who are our neighbours.
"We have always regarded Moray East as our first project; Moray West is 'shovel ready'. Beyond that, we are delighted that the ScotWind process, which is making new areas of seabed available, will enable us to go on working with enterprises across north-east Scotland to continue the development of offshore wind in the Moray Firth.
"Our commitment to the Moray Firth is long term and we look forward to Moray West and ScotWind which will create opportunities through the next decade."