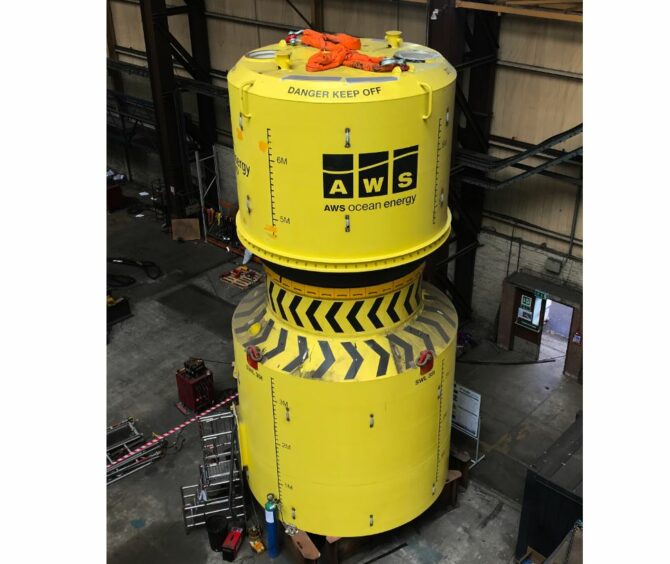 A huge renewable energy device called "Waveswing", from AWS, has completed a construction milestone ahead of deployment off Orkney later this year
AWS Ocean Energy has completed main construction of its 50-tonne wave energy converter which will generate 16kW of power in moderate seas.
The two major sub-assemblies have been joined together in Glasgow and, following internal hookup, will start commissioning and dry-testing in July.
It will then be deployed at the European Marine Energy Centre (EMEC) at Scapa Flow in Orkney later in the year.
Simon Grey, CEO of AWS, said: "It is brilliant to see the machine complete and you get a real feeling that it 'looks the business' – no arms, levers, hinges, joints and other bits to get broken by surface waves, just a simple telescopic can which will pulsate beneath the surface.
"This is what wave power machines should look like."
AWS said Waveswing, which stands seven metres high, is moored subsea and reacts to changes in pressure caused by passing waves.
Its design means it can continue to operate through rough sea conditions, with the aim of being used for remote power applications like subsea oilfield assets.
Malin Marine at Renfrew is building the £3.4million prototype, funded by Wave Energy Scotland (WES) through its Novel Wave energy Converter development programme.
The aim of the WES project is to demonstrate the capability of technologies in real sea conditions.
Development has been supported by a team of Scottish subcontractors including 4c Engineering and Quoceant on design, Sequentec on supply of the control system, Malin for the main build and assembly work, and JGC Engineering for fabrication of the anchor frame.
International subcontractors include Trelleborg for supply of the rolling seal and SRP Subsea for supply of the Rocksteady mooring connector.
Recommended for you

EMEC Orkney floating wind site 'worth £690m' to UK