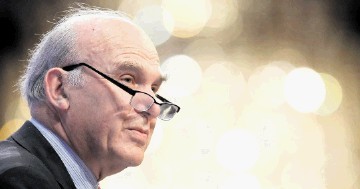 UK Business Secretary Vince Cable has defended the Scottish Government's support for an offshore wind project which is bitterly opposed by American businessman Donald Trump.
The tycoon put plans for his luxury golf complex in Aberdeenshire on hold because of the decision this week to approve the 11- turbine European Offshore Wind Deployment Centre (EOWDC ) which, he says, will spoil the view and deter tourists.
Mr Cable – in Aberdeen to launch the UK Government's oil and gas strategy – said: "Although I've been critical of the first minister's comments on oil and gas prices, I rather agree with what hesaid about that particular development.
"He was right to emphasise the importance of offshore wind as a future industry.
"Mr Trump's comments were way over the top."
Reacting to the turbine project approval on Tuesday, Mr Trump said Alex Salmond was obsessed with "obsolete" wind technology which would be the "destruction" of Scotland.
Pledging to spend whatever it took to stop the development, Mr Trump said: "We will put our future plans in Aberdeen on hold, as will many others, until this ridiculous proposal is defeated.
"Likewise, we will be bringing a lawsuit within the allocated period of time to stop what will definitely be the destruction of Aberdeen and Scotland itself."
The test centre will lie between 2km and 4.5km off the coast and will be capable of generating up to 100MW, providing energy to meet the needs of 49,000 homes – almost half the number in Aberdeen, according to the Scottish Government.
It aims to allow developers and supply-chain companies to test technology offshore before commercial deployment.
The application pitted Mr Trump against Mr Salmond in a bitter and long-running row about the potential impact on the Trump International Golf Links at Menie Estate – itself a controversial development because it covered protected dunes to the north of Aberdeen.
Welcoming the offshore development this week, Mr Salmond said: "A deployment centre will put Aberdeen and Aberdeenshire in pole position for the development of offshore wind technology. Our ambition must be to see Scotland as the home of research, development, fabrication and deployment of deep-water marine technology."
Trump spokesman George Sorial said: "Anyone who would randomly offer support for this reckless decision, issued just 24 hours after Marine Scotland submitted its final recommendation, is either misinformed or just plain stupid. This is Scottish politics at its worst and will erode investor confidence in the government.
"Nonetheless, (EOWDC partner) Vattenfall does not have the financial strength to purify the conditions and defend against the lengthy legal challenge that lies ahead. This project will never get built and those behind the scheme will be remembered for their lack of commonsense and terrible judgment."
Recommended for you

BP 'likely' to be planning Scotland offshore wind entry