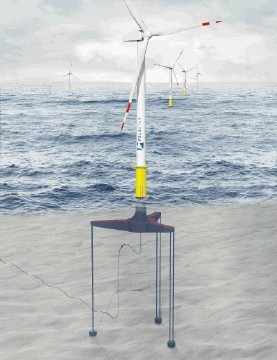 The UK's Energy Technologies Institute (ETI) has given away the opportunity to design a wind turbine floating support system to US firm The Glosten Associates.
It gets the task, not a European company, despite the huge amount of know-how resident in countries such as Norway and the UK and existing concepts such as the one that Statoil has been working on for several years.
Glosten is a naval architecture and marine engineering firm. It will design a tension leg platform (TLP).
The so-called PelaStar TLP prototype will be developed in partnership with Alstom using its Haliade 150-6MW offshore wind turbine.
However, fabrication will be carried out in the UK at Harland & Wolff in Belfast. The device will be designed for potential deployment at the ETI's preferred test-site – Wave Hub in Cornwall.
The ETI commissioned and funded FEED (front-end engineering & design) study will take about 12 months to complete and cost £4million.
The ETI will then decide whether to invest up to £21m in the construction and deployment of the TLP, which could be deployed off the UK coastline by as early as 2015.
ETI studies have shown that floating windfarms in areas of increased higher wind speeds off the coast of south-west England and north-west and north-east Scotland in water depths of 60-100m, have the potential to significantly reduce offshore energy cost.
Andrew Scott, ETI's offshore wind programme manager, said of the project: "Our modelling work and previous engineering design projects have shown that floating offshore windfarms could play a key role in providing affordable, secure and sustainable energy for the UK as part of a broader and balanced energy system.
"Offshore wind though must be affordable and cost competitive with alternative generation technologies.
"The ability of large floating turbines to access near-to-shore, high-wind speed sites off the coast of the UK could bring down the cost of electricity generation for the long term, helping to ensure that low carbon energy from offshore wind achieves costs comparable with other forms of low carbon generation."
The intention at ETI is that the demonstrator would be operated for eight to 10 years to allow further design modifications and refinements to take place.
Energy columnist and Scottish Energy Advisory Board member Dick Winchester asked ETI why it favoured the American design despite being a recipient of considerable public funding.
The response from Richard Robinson, media relations manager was: "The ETI selected The Glosten Associates's technology as we believe it has a strong potential to reduce the cost of energy from offshore wind in the UK.
"This project is focused on the UK and its potential to grow the offshore wind market; and we will work with other leading industry names to deliver just that – irrespective of where the businesses are located."
Recommended for you

Flotation Energy looks to the next set of giant UK floating wind farms