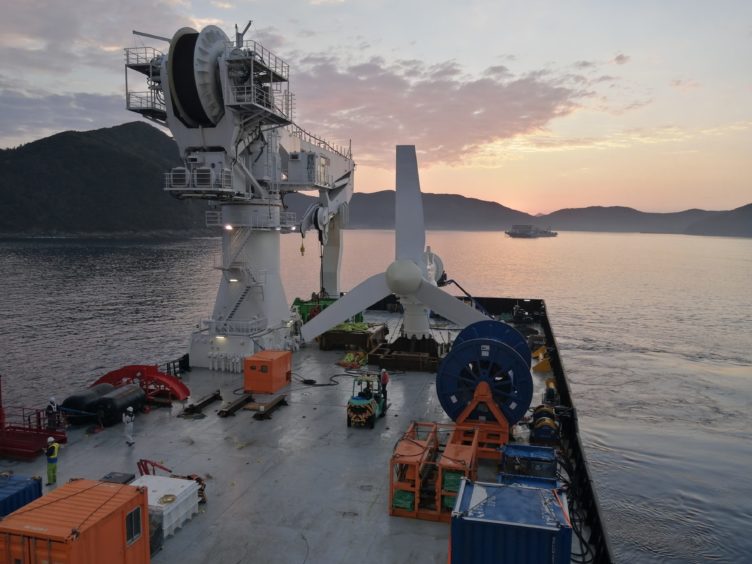 The diverse Asia Pacific regions offer a myriad of opportunities, ranging from decommissioning, late-life field rejuvenation, offshore wind, as well as carbon capture and storage (CCS), for adventurous UK companies.
"Opportunities abound for UK companies in Asia Pacific, as the region matures and focus turns to the energy transition," Andrew Harwood, Asia Pacific research director at Wood Mackenzie told Energy Voice.
Just under half of all producing areas in Asia Pacific are considered mature or mid-life, presenting opportunities for North Sea players that can improve efficiencies, reduce operational costs and improve recovery to extend field life, said Harwood.
"Focus areas would be Malaysia, Gulf of Thailand, East Java, East Kalimantan, India, offshore Victoria in Australia and New Zealand," he added.
Moreover, "subsea technology is another area where the North Sea has led the way, and again, as operators look to increase recovery while keeping operating costs low, there could be opportunities for UK players in Asia Pacific," said Harwood.
Indeed, the UK's subsea expertise could also prove useful as Asia rapidly expands its offshore wind sector this decade. Numerous offshore wind projects are proposed or under development in China, Taiwan, Japan and Vietnam.
Kevin Liu, head of energy, Asia Pacific, at Scottish Development International (SDI), said offshore wind offers "immediate opportunities for Scottish EPCI contractors, installation and commissioning specialists. Scotland's subsea expertise, including seabed operations, cable installation and protection, should be particularly competitive in Taiwan and Japan where there is very limited indigenous offshore capability."
"China, on the other hand, with the region's largest installed (wind) capacity, is keen to source international solutions for asset integrity management, operations and maintenance, which is another Scottish strength," added Liu.
Over the next three to five years, floating offshore wind is likely to become a key market for Scottish developers and supply chain companies, reckons Liu.
Liu is also bullish on tidal, wave and floating solar projects. "There are significant opportunities for Scottish ocean energy developers to support the electrification and decarbonisation of remote coastal and island territories in the Philippines and Indonesia, where large populations still do not have access to grid-level electricity and are therefore highly dependent on diesel and other burning fuels," he said.
The growing acceptance of distributed energy systems by policymakers in Southeast Asia provides a welcoming opportunity for foreign developers to become independent power producers and secure long-term revenue in these markets, added Liu.
There is also a general consensus across Asia that CCS and hydrogen will play a crucial role in the region's net zero roadmap. "Scottish expertise around how CCS can be best delivered is highly sought after in India and Japan, while Scotland's systems design and engineering specialists are well placed to support the conversion of existing fuel and electricity networks to hydrogen," said Liu.
Meanwhile, although oilfield services demand is expected to remain subdued in the medium term, activity will start to pick up from next year, led by growth in areas such as engineering, equipment, construction and installation, Lin Lin Goh, a senior analyst at Rystad Energy told Energy Voice.
The construction and installation sector will be driven by spending at prominent liquefied natural gas (LNG) projects in the region. "Woodside's Scarborough development and Pluto LNG expansion in Australia are expected to be sanctioned this year and will be opportunities to watch out for," said Goh.
"Subsea players may also benefit from major offshore developments in Australia, such as Shell's Crux and Santos' Barossa and Dorado developments," added Goh.
Malaysian projects led by Shell and SapuraOMV offshore Sarawak are also expected to see EPCI players jostling for contracts, said Goh.
Elsewhere, the decommissioning opportunities in Asia Pacific for innovative UK and European companies are huge, said Simon Molyneux, managing director at Perth-based upstream consultancy Molyneux Advisors.
The availability of specialist decommissioning equipment that has been developed in the UK and Europe will help jump-start the sector, said Molyneux.
Aside from Australia, where a huge decommissioning wave is set to begin, there are significant opportunities in China, India, Brunei and Malaysia, where national oil companies (NOCs), as well as other leading operators, are looking for late-life asset extension, refurbishment, subsea removal, well plug and abandonment, as well as waste management solutions, said Liu.
"Scottish UAV IWOCS specialists are particularly well placed to support the highly complex deep-water jobs in Indian and Chinese waters," added Liu.
Recommended for you

$24bn subsea spend eyed in Asia Pacific over next five years